Moto X reportedly to be a Rogers exclusive in Canada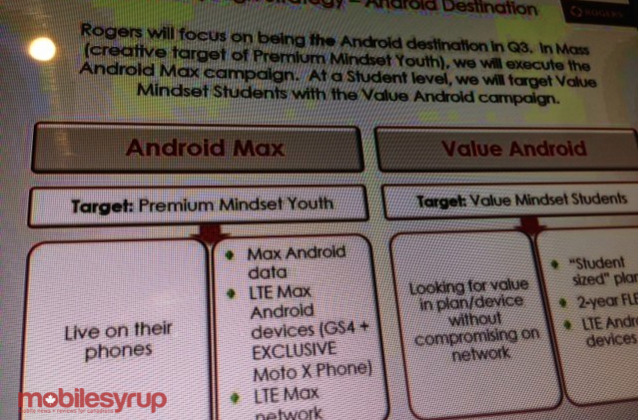 The Motorola Moto X, which we've been hearing about frequently over the last few weeks, will be offered exclusively from the carrier Rogers in Canada, according to a leaked internal document showing the carrier's upcoming roadmap. The image is a snapshot of the carrier's Android ambitions, and was obtained by the folks over at MobileSyrup.
You can see the leaked image above, which features part of an internal document purported to be from Rogers. Among its Android ambitions, which includes a budget category of plans and an all-out data plan, is one interesting tidbit of information indicating that Motorola's flagship handset will be offered from the carrier exclusively.
Under its "Android Max" category of plans, there's a section that reads "EXCLUSIVE Moto X Phone," which will be under the Rogers' campaign reported to start in the third quarter of this year. The campaign is set to target consumers who "live on their phones," and will include LTE smartphones. This is in contrast to the "Value Android" campaign, which is more budget friendly and specifies subscribers like students.
Back in April, Rogers expanded its 4G LTE network to seven new markets, including locations in Ontario and Ottawa. According to MobileSyrup, the handset will be available to subscribers on August 1, and which leaves less than a month of waiting. Per the document featured in the image, the smartphone will be available on the LTE Max network. Thus far, there's no word on how much it will cost.
In other Moto X news, we heard earlier this evening that the rumored July 11 press event is a non-event, according to a statement received from Motorola. We also saw a leak of casing images said to have been snapped of the Moto X on the factory floor, one of which indicates there is a dual-SIM variation of the handset in the works. You can see the other recent Motorola flagship happenings in the timeline below.
SOURCE: Android Community