US Automaker Squealed On Hyundai & Kia Economy Fudge Says EPA Exec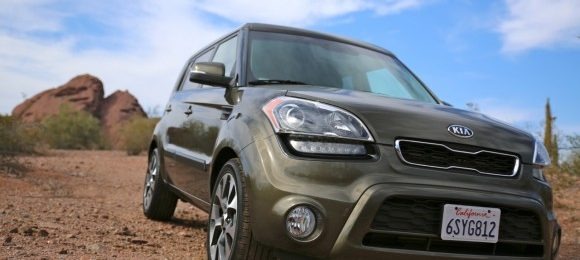 A senior exec from a US car manufacturer stuck the knife in on false Hyundai and Kia fuel-economy claims, quietly reporting the foreign marques for "cheating" to the EPA. A "credible" VP from a domestic automaker made the claims back in 2010, former EPA exec Margo Oge confirmed to Automotive News, though declined to confirm which of the brands dropped their Korean rivals in it.
The EPA found Hyundai and Kia had over-exaggerated the fuel efficiency of thirteen models offered in the US back in November. At the time, the companies blamed "procedural errors at testing facilities in Korea," but still agreed to compensate owners for any unforeseen fuel costs. That is expected to amount to millions of dollars, with almost 900,000 vehicles affected.
According to Oge, it's no great surprise that the thought of other companies getting away with inflated economy claims – even if only inflated by a tiny amount – drove one to squeal on its industry rival. "One tenth of an mpg makes a huge difference for these companies" she pointed out.
Unsurprisingly, none of the big US brands are willing to 'fess up to tattling. "It's not us" a Chrysler spokesperson said, while General Motors insisted that "we don't conduct our business in that manner" and said that it wouldn't seek government assistance if it had an issue with a rival.
It's Ford's comment that has some suspecting the blue oval, however. "We cannot comment on any specific discussions, but Ford routinely speaks with policymakers about a wide variety of issues affecting our industry," the company said, pointing out that "we have been – and remain – an advocate of driving real fuel economy gains because it is in the best interest of our customers.
Ironically, Ford recently faced accusations itself that it had over-promised on fuel efficiency, with the estimated figures for the Fusion and C-Max hybrids both being questioned. Nonetheless, the C-Max hybrid is the fastest selling hybrid to-date, Ford claimed today.
[via Autoblog]