Update iOS 13.1 and iPadOS release date moved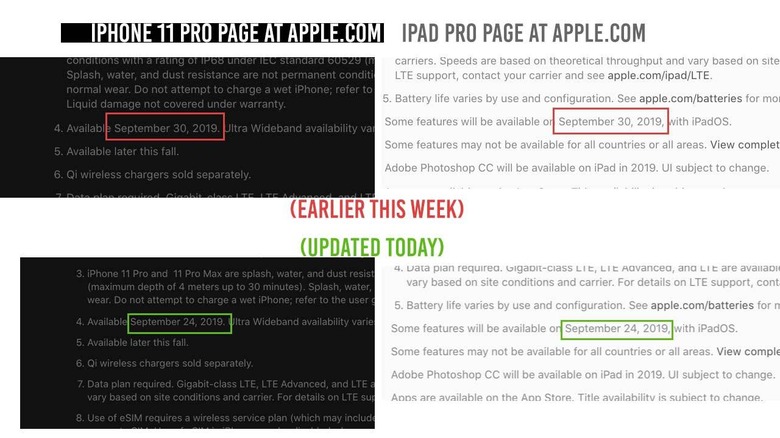 Apple moved their expected release date of iOS 13.1 from the 30th to the 24th of September. If you take a peek at the first press releases from Apple – and indeed press from around the world – you'll find the date "September 30" quoted for an update to iOS 13.1 for iPhone 11. If you look at Apple documentation for an expected date for the release of iOS 13.1 today, you'll find the release date for iOS 13.1 to be September 24th.
You'll find mention of the release date of iOS 13.1 on the Apple homepage for the iPhone 11 Pro. "The new Apple-designed U1 chip uses Ultra Wideband technology for spatial awareness – allowing iPhone 11 Pro to understand its precise location relative to other nearby U1-equipped Apple devices.4"
The footnote "4" is also mentioned on the iPhone 11 Pro page at the tail end of the new pointing AirDrop feature. "With U1 and iOS 13, you can point your iPhone toward someone else's, and AirDrop will prioritize that device so you can share files faster.4" These are just a couple of features that were mentioned during the iPhone 11 event, but were not present during the initial review period for the iPhone 11 and iPhone 11 Pro devices.
Footnote "4" leads to the bottom of the page for iPhone 11 Pro where Apple mentions "Available September 24, 2019." This also goes for Apple's new iPad software – the split to iPadOS. A review of iOS 13 from The Verge mentioned a significant number of "bugs", while MacStories mentioned "different types of glitches or slowdowns." It's likely these will be taken care of in iOS 13.1 – but we shall see!
According to Apple's support page, iPhone XS, iPhone XS Max, and iPhone XR will get the iOS feature which "dynamically manages performance peaks to prevent the device from unexpectedly shutting down so that the iPhone can still be used." You'll be able to see more on that once the update arrives by heading to Settings – Battery – Battery Health.