Unlocked iPhone 4 on sale in US from $649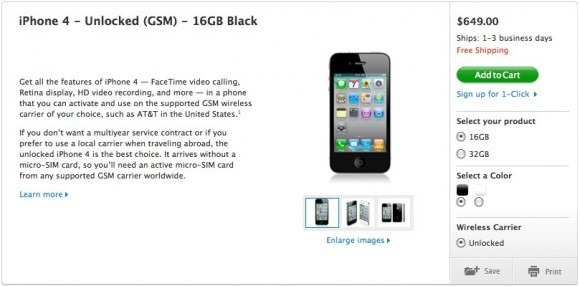 Apple has begun selling unlocked iPhone 4 handsets in the US, as rumored earlier this week, with the smartphone available from $649.99. That gets you either the 16GB white or the 16GB black iPhone 4, while $749 nets you the 32GB model in either color.
Obviously that's significantly higher upfront than a subsidized, AT&T iPhone 4, but when you take into account a two-year agreement on the minimum plans, the AT&T handset comes to $1,519 over the course of the contract.
Obviously you'll have to pay for service if you actually want to use your unlocked iPhone 4, but as long as you can find a microSIM to fit then you'll likely be able to take advantage of lower rates. T-Mobile USA calls and EDGE data would be supported, but not 3G data since the carrier uses different bands.
"If you don't want a multiyear service contract or if you prefer to use a local carrier when traveling abroad, the unlocked iPhone 4 is the best choice" Apple
However, the GSM iPhone 4 does support the bands used for 3G in Europe and other international regions, and as such the unlocked phone could be of particular interest to those frequent travelers wanting to use local SIMs. Internationally, the iPhone 4 is sold unlocked as standard, meaning this SIM-switching is more common.