UMID M1 MID: XP Boot In Just 30 Seconds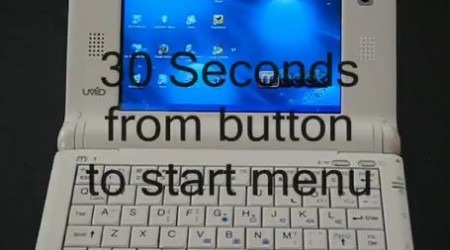 One of the biggest issues consumers have had with MID and UMPC devices is start-time.  Linux offers a speedy boot – down to just 5 seconds if you fettle it right – but lacks user-familiarity for entry-level buyers, while Windows XP satisfies on the latter but tends to miss out on the former.  That's why we're glad to see the UMID M1 MID can hit an XP desktop in just 30 seconds from a cold start.
Video demo after the cut
That's the same amount of time that some notebooks and netbooks take to resume from standby, which is positive news for anyone hoping to eke the M1's battery out a full day.  More on the UMID M1 MID here, including battery life, benchmarking and more.
Ironically, UMID have decided not to actually officially offer the M1 with Windows XP preinstalled, only Linux, so if you want this quick-booting Microsoft MID you'll need an OS license of your own.  One thing to note, while the video claims the M1 weighs a chubby 490g, it actually tips the scales at just 338g.  That's a whole lot more pocket-friendly.