UMID M1 changes afoot: non-3G first, case & OS tweaks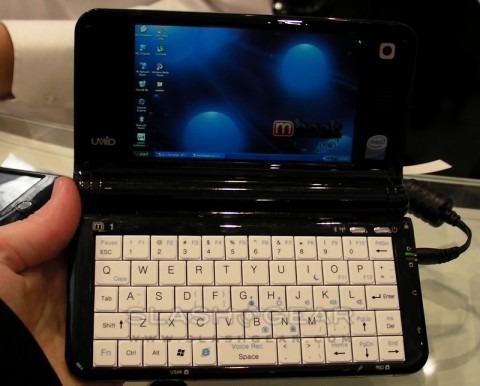 Ah, the perils of not being specific enough.  When we said we wanted UMID to sort out the first-gen M1 mbook having non-US-friendly HSDPA, what we hoped was that the Korean company would switch radios to a US-spec 3G chipset.  Instead, they're now planning to leave out HSDPA in the first wave of shipments.
The non-3G version will be followed by a 3G-enabled model, though US release dates for either are still unknown.  It's unlikely to be for a few months yet, though, as the Australian and Hong Kong launches – the first outside of Korea – have been pushed back to May, giving UMID time to smooth the casing and fit a less-protruding battery.
Unlike models we've seen – and played with – to date, Linux rather than Windows XP will be the standard OS.  Those wanting to upgrade will have access to the XP drivers, but will seemingly have to provide their own license.  There'll be no customization available from UMID themselves, and all M1 mbooks will carry a one-year, global warranty.  Finally, fewer white units will be available than black; there's no word about the fetching red version we spotted at CTIA.
That leaves early-adopters in a tricky position.  We already know that retrofitting 3G HSDPA to the M1 is a tricky, perhaps impossible proposition, so they'll have to balance having the MID first versus having it fully-functional.  Considering the M1 only really makes sense as a mobile communications device, I'd be tempted to wait until the 3G-spec model is released.