UMID M1 dissect shows HSPA challenge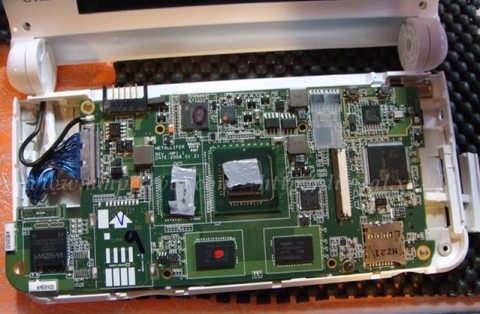 When they're not trying to bless the Viliv S5 with HSDPA, the guys at UMPC Fever are dissecting the UMID M1 'mbook' to try to do something similar.  If you thought the S5 was a challenge – soldering in a new mini PCIe connector, changing the storage – then prepare for what the UMID folks have set up for hapless modders: a combination of very little space and missing controller chips.
In the second photo in the gallery below, the green rectangle shows where the SIM slot would normally be; that gives an idea of the sort of scale we're talking about inside the ultra-compact clamshell MID.  The red rectangle is where a 54-pin mini PCIe connector would have to be soldered into place, and – most frustratingly – the yellow section is where a controller chip should be. 
Without details of which controller UMID had in mind for the M1, it's going to be tricky picking the right HSPA hardware to fit.  Even then, there's actually not enough room for a standard HSPA module near the SIM slot anyway, meaning it'll have to be positioned elsewhere and wired in (with antenna cabling, of course).  Right now it's not looking good, and it's disappointing news to anyone in the US who imported a Korean M1 thinking they could use, or switch out, the Korean-spec 3G to US-spec.