UMID M1 mbook reviewed: great mobile comms device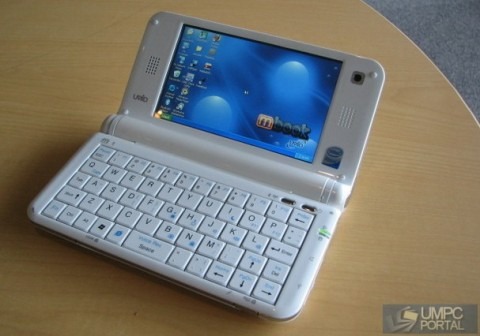 Despite all our hands-on time with the UMID M1 mbook, we've never had long enough to decide finally whether it's a triumph of miniaturization or a scale-down step too far.  MID Moves took the 4.8-inch mobile internet device to SXSW, comparing it to a number of other MIDs and UMPCs along the way, and despite some qualms about build quality and just how much long-term use you could make of the keyboard they're impressed.
Reviewer Steve Paine already put the M1 through its benchmark paces, finding a speedy SSD drive and reasonable grunt from the 1.3GHz Intel Atom Z520 processor.  As we found, the keyboard is good for thumb-typing – holding the M1 in both hands, and pecking across it with the thumbs – but longer-term use is less practical.
The touchscreen is responsive (accuracy seems to be up partially because Steve's test unit was running at 800 x 480 rather than the 1024 x 600 we've seen in our own experience) and battery life from the 18Wh pack reached four hours with WiFi active.  If the keyboard question is your key stumbling block over the UMID M1, check out our typing demo video from CTIA last month; otherwise, hold tight and hope that UMID announce a new US availability date with 3G support soon.