UK PS3 sales take dramatic, 82% dive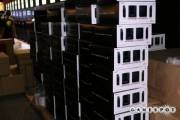 Ah, sweet PS3 – so shiny, such lovely Blu-Ray playback, how could any man, woman or child not want to take you in their arms and gently molest your vent slots?  Well, it's looking like gamers in the UK are finding those charms reasonable to resist (or having trouble saving up the extra for a UK model), since second-week sales over here have crashed by a whopping 82-percent.
Not only that, but sales of the top two PS3 titles (which happen to be Resistance: Fall of Man and MotorStorm) dropped by more than 60-percent, and initial stocks of the PS3 itself failed to sell-out.  Jack Schofield over at Guardian Unlimited thinks Sony should bundle more free flat-screen TVs at point-of-sale, as Virgin Megastores did to celebrate the next-gen console's launch; personally, I think dropping the sticker price to bring it in-line with what our Japanese and US cousins pay would be quite enough.