Two INQ Mobile Facebook phones tipped for 2011 debut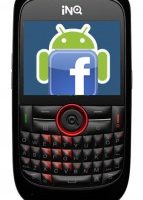 The Facebook phone rumors refuse to die, and now Bloomberg has chimed in with its own "three people familiar with the matter."  According to those unnamed sources, Facebook has been working with INQ Mobile on not one but two smartphones, which will see a European release in the first half of 2011 and potentially an AT&T debut in July or August that year.  However, Facebook apparently "hasn't decided" if it will be putting its brand on the handsets.
According to one of the sources, the two new phones will each run Android; one will be a full-touchscreen device, while the other will have a hardware QWERTY keyboard and a touchscreen.  INQ confirmed they were looking at shifting to Android in September last year, as well as more unusual form-factors and even flexible displays, though have yet to actually unveil any such devices.
For their part, Facebook still refuse to comment on the rumors specifically, but do confirm that they have close existing ties with INQ Mobile.
"We've been working with INQ for a couple of years now to help them build a deeply integrated Facebook experience on their devices.  While we can't speak for their future product development plans, we can say that our view is that almost all experiences would be better if they were social." Facebook statement