Two Apple tablets tipped: 6-inch Kindle rival and larger OS X pad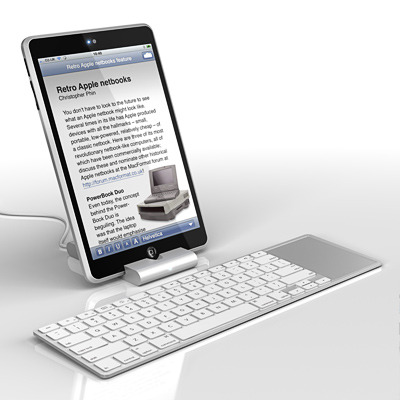 The idea that an Apple tablet may not arrive in September and may in fact only be forthcoming in early 2010 seems pretty well accepted now, but according to one market research group we should be expecting two devices from the Cupertino company.  According to Richard Doherty of the Envisioneering Group, Apple have been working on two prototype tablets: one with a 6-inch touchscreen, which resembles a large iPod touch, and another with a bigger touchscreen.
"One of Apple's prototype devices is able to run all Mac applications, and allows for video and audio editing and graphic animation, Doherty says. Another, which looks like a larger iPod, lends itself to watching videos, playing games, and reading e-books." BusinessWeek
Those two form-factors, Doherty suggests, would allow Apple to position their new tablets more specifically, and perhaps solve one of the biggest struggles rivals have experienced in their marketing: telling people exactly what to do with larger-scale touchscreen devices.  The smaller tablet, therefore, could be used as an ebook reader and gaming device, challenging Amazon's Kindle, while the larger version would "run all Mac applications" (suggesting full OS X compatibility) and could be used as a touch-controlled AV and animation workstation.
The smaller device could also retail for around $679, Doherty speculates, taking a sizable bite out of netbook sales which lack the Apple brand-name.  Unsurprisingly Apple declined to comment on the rumors.
[via GottaBeMobile]