TwitterPeek gets official: $200 for lifetime mobile tweeting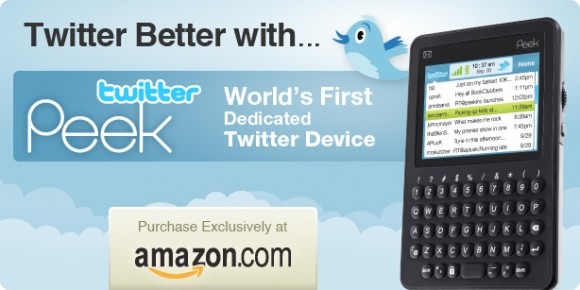 As expected, Peek have announced a dedicated Twitter messaging device, the TwitterPeek.  Like the company's email-centric handhelds, the TwitterPeek aims to do one thing very well rather than multiple things reasonably: it delivers new tweets in real-time, allows for '@' replies, retweeting and direct messaging, and has the same full-QWERTY keyboard as the Peek Pronto.
Peek are billing the TwitterPeek as a more straightforward alternative to a cellphone or smartphone Twitter client.  However, there are a few things you'll miss by going with the dedicated device: right now, there's no way to view the content of links in tweets (though Peek say they're working on adding link previews), there's no GPS for geotagging your location, and since the device has no browser there's no way to quickly share a page with your followers.
There's also no camera, which means that one of the most common uses of Twitter – sharing photos – isn't possible either, and the TwitterPeek only supports a single account being active at any one time.  While we harbor a soft spot for the original Peek concept, we're not so sure about this new device; it seems like you're only getting half the functionality most would expect from a mobile Twitter client.  The TwitterPeek is available now, priced at $99.99 with six months of service (subsequently $7.95 per month) or – a far better deal – $199.99 for lifetime service.