Twitter Night Mode activated on iOS and Android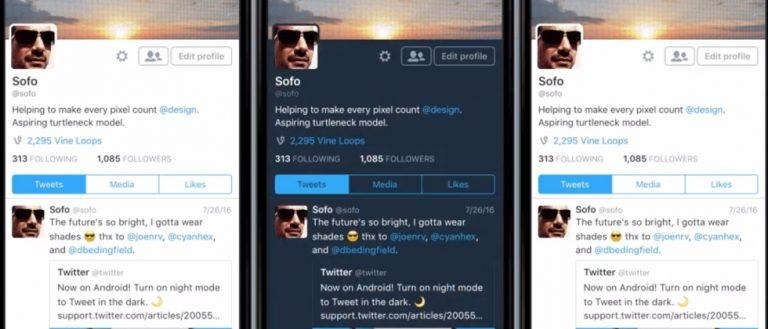 While Night Mode has been active on some Android devices for a while, it's now been brought to life on both iOS and all Android devices (or most) today. Users can try this Night Mode in Twitter on mobile devices starting this morning with a simple update to said apps via their app store. Once this update is active, Night Mode will allow the user to view Tweets in a sort of opposite-of-day color scheme – much better for the eyes.HOW TO iOS: This new mode will be active on iOS devices this morning after update as downloaded from the App Store from Apple. Once updated, users will be able to turn Night Mode on by tapping the "Me" tab first. Then they'll want to tap the gear icon. In the Gear (Settings) Menu, there'll be an option entitled "Turn on night mode." Tapping this will activate Night Mode.SEE TOO: Twitter gets a whole new look
The same process as outline above will turn Night Mode off, if already turned on.
HOW TO Android: Android devices can run a similar process to activate Night Mode. On an Android device, the user will want to either tap their Profile Icon or the Navigation Menu (three horizontal lines). A menu will slide out, and a "Night Mode" switch will be visible – flipping this switch will turn Night Mode on. The same process then will turn Night Mode off.
We're crossing our fingers for swift IFTTT integration so Night Mode can automatically be activated when night falls, and the opposite for the opposite.
This is just the latest in a line of Twitter optimizations for mobile devices, the devices where Twitter is used most. Users that Tweet often should check this week for updates to the app as this update will include further bug fixes and optimizations for all devices as well.