Twitter makes ads program available to all users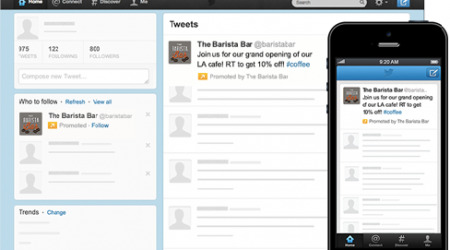 Twitter's advertisement program was only available for several businesses in the past, but in order to generate more ad revenue this year, Twitter has decided to make its advertisement program available to anyone and everyone. The ads program allows users and small businesses to promote their brand and their products through promoted tweets and accounts. The tweets can be adjusted to appeal to the general public, or only to a targeted audience.
In the past, the ad program was only accessible to businesses who received a personal invite from Twitter. Now all anyone needs to do is sign-up to be considered. All you need to do is answer a few questions and you'll be on your way. You can choose to promote your tweets, or you entire account. The pricing system is similar to Google AdWords, where you can set a budget to control how much you spend, and you can place bids to decide how much you want to spend per follower/click.
This new move from Twitter is one of its first steps its taking to achieve its goal of generating $1 billion in ad revenue alone by 2014. Currently, its ad revenue for this year is expected to be a little over half that amount, but with the expansion of its ads program, and its more aggressive move towards mobile, its goal seems more and more realistic. It also helps that there are over 200 million people who are currently using its service and over 400 million tweets being sent out everyday.
Twitter has focused a lot of its efforts into expanding and developing its advertisement platform. Back in February, it released an advertisement API that lets businesses create more targeted ad campaigns. The program saw impressive results, with some businesses seeing a huge increase of new followers on a daily basis. Twitter also improved its keyword-targeted ads so that when a user tweets about a product, like soda, they would see an advertisement for soda quickly after. While increased advertisements may be deterring, Twitter's ad program becoming available to users and small businesses should do wonders in helping them grow their exposure and their businesses.
[via Twitter]