Twitter gets creepier with keyword-targeted ads

This week the folks at Twitter have announced the first wave of keyword targeting in timelines – available to advertisers for every place that Twitter Ads are supported. You'll be working in all languages and in every single Twitter market across the advertising universe with targeted ads. In this case it means that if someone tweets about something they enjoy, an advertisement can now see that and target itself based on the subject matter.
If you're tweeting about an ice cold glass of Surge soda, you'll quite likely be seeing an advertisement for Surge soon after. With this update by Twitter, Twitter will be allowing context to play a much bigger part in your everyday advertising adventures. The good news for regular users is that they'll not see any discernible difference in the amount of advertisements that are popping up.
"Users won't see any difference in their use of Twitter — we're not showing ads more frequently in timelines, and users can still dismiss Promoted Tweets they don't find relevant. In fact, we believe users' experiences with ads will improve as a result of this feature as they see more relevant Promoted Tweets." – Twitter
According to Twitter, it appears that advertisers that've been using the service thus far in test runs have seen much better engagement when their ads are targeted specifically. Users were "significantly more likely to engage" with these new Promoted Tweets when using keyword targeting then with any other form of Twitter targeting in timelines.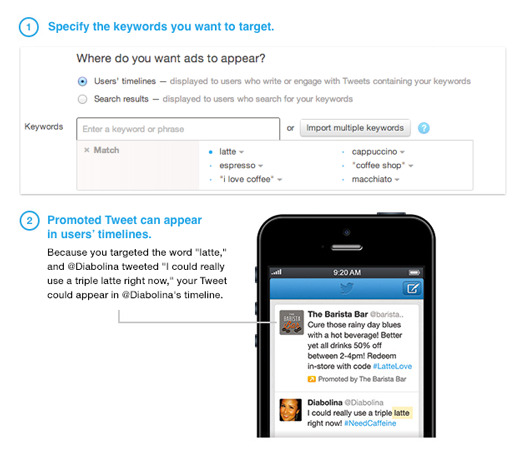 The image above is the screen advertisers will be seeing from this point out when they want to target advertisements based on keywords in your timeline. Make sure you tweet a bunch about your favorite kinds of foods and services!