Twitch Audio Muting live, parent company shuttered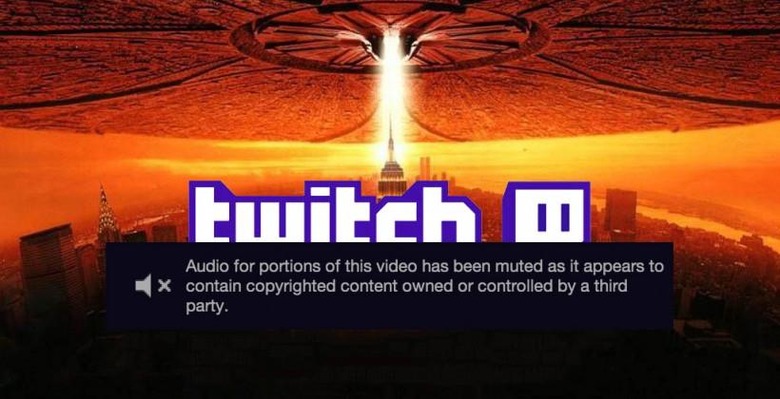 This week Twitch continues to move toward a more standard setup for their hosted media, first porting to YouTube, now working with Audio Recognition. That's Audio Muting in a lot of cases, as Twitch is working with the group Audible Magic to scan your videos for music which could be protected from broadcast under copyright law. Will your video's audio be muted? It really depends on what games you've recorded.
At this point if Twitch isn't acquired by Google within the next few weeks, I'll be beyond baffled. Either Twitch and Google are about to announce an acquisition OR an acquisition was in the works and fell through. This much change doesn't come for no reason.

Yesterday we saw Twitch roll out changes to how they host VOD (Video on Demand, aka your non-highlight video content), suggesting that their new YouTube porting tool would be a great solution if you want to keep massive amounts of files.
Today they're rolling out the "Flagged Content" notifications left and right. Below you'll see one of Twitch's own home-made broadcasts that includes one of these flags.
Over at Hitbox – another video hosting site and streaming specialist for gaming – they've received a "major influx of new users" this week. That's according to their help line @hitboxliveHelp.

UPDATE: Twitch power-user ProfessorBroman (aka Cosmo Wright) – watched for his game speed runs – has made it clear that he's considering moving to a different streaming site in the wake of the changes being enacted this week.UPDATE: Justin.TV is closed. Though back on the 10th of February of this year Justin.TV was renamed Twitch Interactive and CEO and founder Emmet Shear told TNW that they won't be closed, they've closed.
"The Justin.tv website, mobile apps, and APIs are no longer in service. Thank you sincerely for seven years of live video memories." – Justin.TV
The video you see above is – strangely – hosted on Vimeo, not YouTube. Those of you with Justin.TV accounts can head to this Twitch form to have your content moved to Twitch. Good luck!
UPDATE: Straight from Twitch CEO Emmett Shear's Reddit AMA you'll find that "[Twitch has] absolutely no intention of running any audio recognition against live video, period." Audio flagging happens only after a video is archived.
He also notes that "Lack of communication ahead of time: This was our bad. I'm glad we communicated the change to VOD storage policy in advance, giving us a chance to address issues we missed like 2-hour highlights for speedrunners before the change went into effect." He continued, noting, "I'm not so glad we failed on communicating the audio-recognition change in advance, and wish we'd posted about it before it went into effect."