This week the folks at Roam & Wander have released a kickstarter for a character by the name of TuTu; a pink bunny aimed at bringing kids obsessed with the digital world back into an expansive tactile world of play. What you're seeing here is a bunny toy with a space for an iPhone that becomes the bunny's face. Once the iPhone is placed in the toy and the TuTu app is activated, a two-tiered toy is formed: on one hand there's the plush, on the other, there's an interactive bunny face powered by the iPhone.
Early this month we had a chat with the creator of this project, Jason Warren. I personally found this project interesting because of its applicability to my own life, – it's no secret that kids of all ages coming in to this smartphone-filled world are finding such a touchscreen-friendly universe to be extremely attractive. But what about interacting with real, physical objects – like a stuffed animal?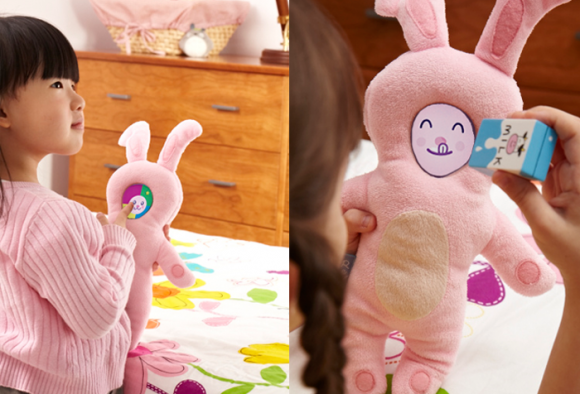 As my nieces and nephews – and indeed my own offspring – show that they're syncing up with this touchscreen device universe the same way we came up in the world with the personal computer, a project like TuTu appears to make sense, at least on the surface. Why stick with something as miniature as a Tamagotchi when you can have a friendly fuzzy bunny to keep you company?
What is TuTu?
Here with TuTu, as Warren lets us know, we've got an extension of an already popular character from the super-popular digital environment in "Sticker Games." If you've never used the app Sticker Games and you're under the age of 10, it's likely you live in the United States. This game is wildly popular across the sea due to its extreme simplicity and kid-friendly art-creating abilities. TuTu plays a big part in this game as a helper for the user.
TuTu appears here in Roam & Wander's project as a physical toy. Here this bunny works with a collection of accessories that are touchscreen-friendly: a heart-shaped ring, milk box, toothbrush, apple, and carrot.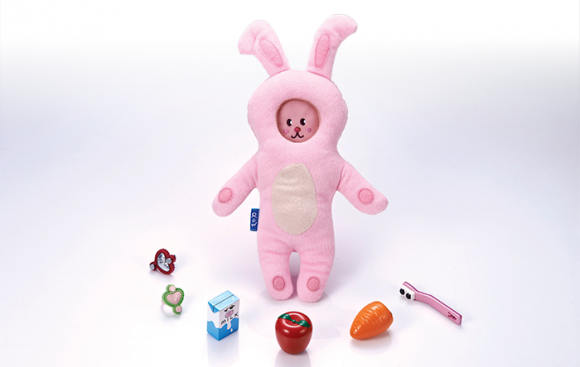 Touch the ring to TuTu's cheek and it gives the bunny a kiss – touch the milk to the screen and she has a tip – milk mustache and everything. Food makes her full, and brushing her teeth after every meal helps kids understand the importance of keeping teeth clean: if TuTu likes it, it must be fun.
How was TuTu made?
Roam & Wander have designed this bunny friend while the group known as Logistica have handled (and are handling) project management. Roam & Wander work with several plastic toy manufacturers and stuffed animals makers to make this project happen, and at the time this article is being posted, there are a total of 1,000 bunnies already out in the wild, a pack of them undergoing some strict hardcore real-life testing now.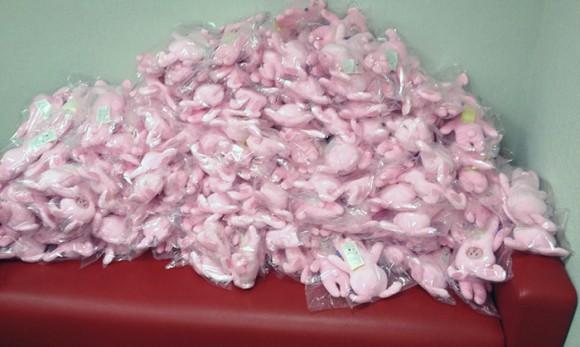 This strict hardcore real-life testing is, of course, the bunnies being used by real kids to make sure they're fully enjoyable. Roam & Wander has also had these toys "manufactured, quality tested, and certified by an international safety testing lab" as well.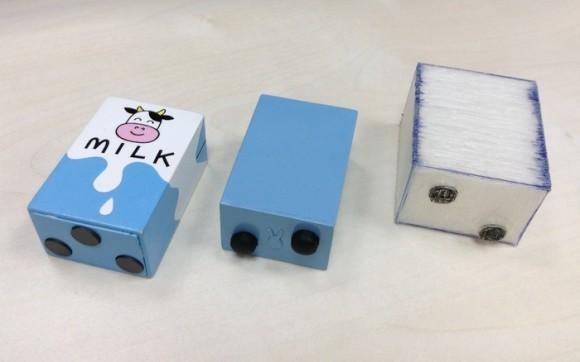 As for the plastic toys – they were made step-by-step in real hands-on testing mode with the futuristic process we know so well: 3D printing. What you're seeing above is a set of functional prototypes of the Milk jug in early 3D printing model mode. The Apple accessory took on several forms, as you'll see here – green apples are too sour anyway, right?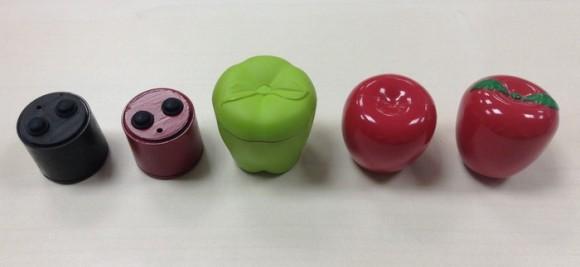 Where is the project today?
At the moment that massive stack of bunnies you see above is ready to go – some are out there being play-tested by kids, the rest are ready to ship. Other than that, the list goes as follows:
• Machine the production tools for the toys
• Manufacture and assemble the very first sample production toys using the molds and test them for safety, function, appearance, and durability. (If necessary, R&M will make minor adjustments to the production tools.)
• Manufacture and assemble the first 'production line' batch of 300-500 production toys using the molds and test them for safety, function, appearance, and durability, and verify that the QC processes identify any toys that don't have the right level of touch function.
• Produce the first regular full scale batch of 1000+ toys
• Submit the TuTu app to Apple for distribution in the App Store
• If R&M need to manufacture more TuTu stuffed animals (more than the 1000 already produced), manufacture the extra batch based on the final order numbers from Kickstarter.
• Finalize and manufacture the TuTu packaging (box)
• Pick and pack the toys in the final packaging
• Confirm delivery addresses for Kickstarter backers
• Ship TuTu out
Now the concept for TuTu exists as a first run of toys and the team needs the collaboration of the public to continue rolling out. While full production of this toy might never have been possible had it not been for a system like Kickstarter, now this digital tool exists between you and these friendly creators of toys to make it all a reality. This is all done with few steps as possible between the idea and the bunny in the arms of the kids that'd otherwise just be holding a screen.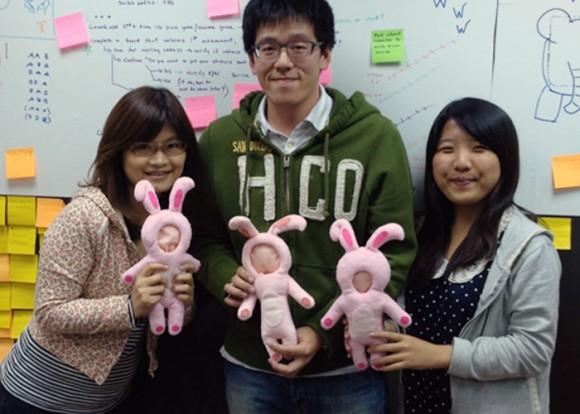 The TuTu Kickstarter has just begun, with nearly the full run of funding days ahead of it, and the earliest ship date comes this August. Until then, users will have to keep tapping TuTu in the Sticker Games app, waiting for this creature to hit the road.