TuneView remote iPod dock reviewed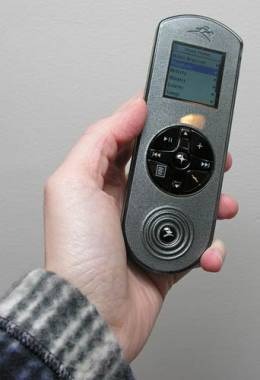 MythTV, as mentioned in my last post, can handle streaming your digital music all round the house... but what if you just want to enjoy the songs on your iPod on some big speakers, and maybe wander round with a fair degree of control?  Enter TuneViewfrom Keyspan, an RF remote and dock combo that not only lets you control basic music functions but has a colour screen to build and manage playlists.  Julie promptly plopped her Nano into the slot and gave the whole system a good testing to see how useful it really is.
The good news is that audio quality is decent, the remote's screen is clear and familiar and has little to no learning curve, and the range – quoted rather pointlessly, as these things are, as being 150ft in open air – was around 75ft through two or three walls.

Bad points?  Well, there's a funny buzzing noise from the remote, and you can't play back your music through the TV for some unknown reason.  Check out the full review for all the details.
Keyspan TuneView for iPod[The Gadgeteer]