Trump's unsecured Android phone is reportedly still in use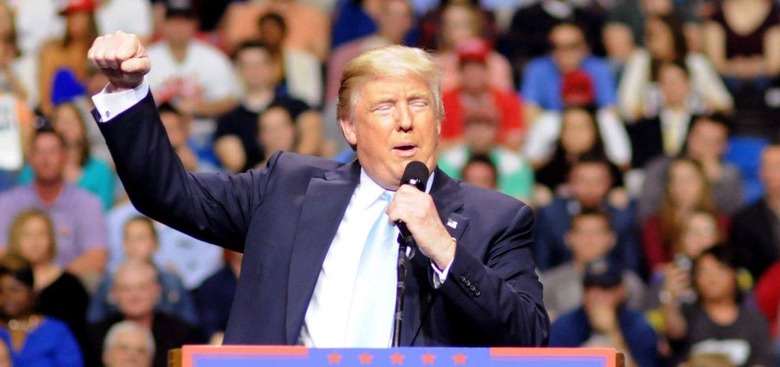 President Trump is still using his old smartphone, new reports claim, despite the Android handset being unsecured. The newly-instated US president, in his first week in office, was believed to have exchanged his phone for the requisite secured device, but that may not in fact be the case. According to a New York Times report, Trump has controversially kept hold of the handset.
There's a good reason for the practice, too. Although the exact details of what preparations are made for a so-called "presidential smartphone" are purposefully kept vague, so as to avoid any unscrupulous player from attempting to circumnavigate the protections, the nature of the content implies heavy encryption. Limiting the features supported is also known to be part of the process too.
For instance, former President Barack Obama once revealed that his smartphone was heavily locked down. Unable to take photos or play music, the unnamed device was also supposedly incapable of sending text messages. Obama, a known BlackBerry fan, switched his own handset to a locked-down BlackBerry when first elected, but that was later replaced with the more strictly-curtailed device.
One feature required if a phone will have access to military information, for instance, is a Trusted Platform Module (TPM). That effectively allows the handset's validity – and a check on whether it has been compromised or tampered with – to be ascertained. Without that check, data encryption cannot be carried out.
Reports only a few days ago suggested President Trump had already exchanged his device, having been urged by security services to turn in his unsecured handset. However, according to a report in the NYT today, the President has "his old, unsecured Android phone, to the protests of some of his aides" at the White House. Trump's tweets, often explosive, are generally highlighted by virtue of the fact that they are sent using "Twitter for Android".
Although Trump took control of the @POTUS Twitter account following the inauguration last week, he has continued to make more frequent use of his existing @realDonaldTrump account. The Presidential account has also begun retweeting his personal account. Although Obama did have a device with access to the Presidential Twitter account, he is believed to have always run new posts past his staff before they went public.
Data security played a significant role in the election process, with Democratic candidate Hillary Clinton being regularly hounded for her use of a private email server. Following investigations, however, Clinton was cleared of any wrongdoing. A report today by Newsweek claims President Trump's White House staff – including Kellyanne Conway, Jared Kushner, Sean Spicer, and Steve Bannon – all have active accounts on the same Republican National Committee email system that George W. Bush's administration used.
That administration was accused of relying on those servers to evade transparency rules, after having claimed to have "lost" 22 million emails in attempts to avoid Freedom Of Information Act (FOIA) requests. While having a private email account is not illegal, the risk is both one of potential hacking and of inadvertently (or, indeed, intentionally) passing classified or similarly restricted messages through it. Some have highlight the "optics" of potentially using personal email accounts when Clinton's use of such was such a high-profile point during the campaign. Trump himself is known to avoid using email, preferring to have such messages printed out for his reading.
SOURCE NYTimes