Transformers: Age of Extinction trailer stars Dinobot Grimlock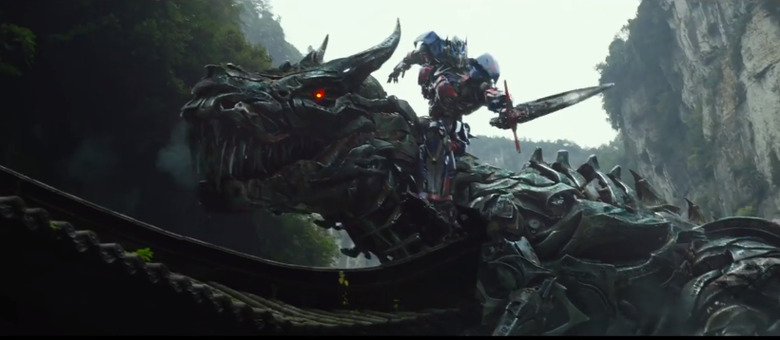 Optimus Prime riding on the back of Grimlock. One sentence that wraps up the first trailer for Transformers: Age of Extinction, fourth movie in the franchise and first to feature 80s-favorites the Dinobots. Directed by Michael Bay, and due to hit movie theaters on June 27, 2014, the film will also feature an entirely-new cast, with Shia LaBeouf replaced by Mark Wahlberg.
Chatter of the Dinobots featuring in Transformers 4 began back in September, leaving fans of the original series hugely excited. The five-strong team – featuring a Tyrannosaurus Rex, a Pteranodon, a Triceratops, an Apatosaurus, and an Elasmosaurus – is probably best known for Grimlock, whose stilted language made him a fan favorite.
Going by the new trailer, Grimlock at least will be appearing in the movie, and will be considerably larger than some of the other Transformers that we've seen before. Certainly big enough for Optimus Prime to ride, wielding a sword, amidst the usual Bay-style explosions, building destruction, and more.
Other hardware we're expecting to see includes Chevrolet's Corvette Stingray C7, which has been confirmed as an Autobot in the movie. The car will be finished in bright green, and accompanied by a Bugatti Veyron Grand Sport Vitesse.