Toyota teases FV2 concept vehicle ahead of Tokyo Motor Show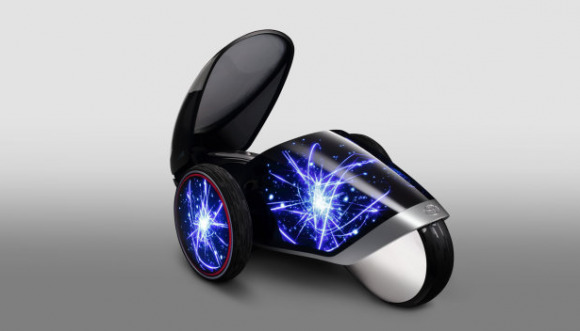 Toyota is gearing up to show off a number of concept cars and other vehicles at the Tokyo Motor Show kicking off later this month. One of the concept vehicles Toyota will be showing off is called the FV2. This concept vehicle has features resembling a scooter with the driver standing on the vehicle rather than riding in it like a normal car.
The FV2 features four wheels with two of the wheels arrayed like a motorcycle and two on the side sort of like training wheels. Toyota says that the vehicle can be driven while standing and drivers would change direction by shifting weight as you would on a motorcycle or something along the lines of a Segway transporter.
The canopy can be lifted to become a front visor featuring a display panel showing road conditions to drivers. Those road conditions would be gathered wirelessly from other vehicles and from other information providing networks. Toyota also says that the concept car might be able to recommend routes or destinations that the driver would be interested in.
Those routes and destinations would be offered based on the driver's mood as gleaned through voice and image sensors by the vehicle itself. This sounds like a concept vehicle that will probably never see the light of day. However, its design does remind a bit of the Toyota i-Road unveiled at CEATEC last month. Toyota also plans to show off a car called the FCV described as a concept version of a fuel-cell vehicle Toyota plans to launch in 2015.
SOURCE: JDP