Toyota i-Road urban tandem two-seater vehicle specs detailed at CEATEC 2013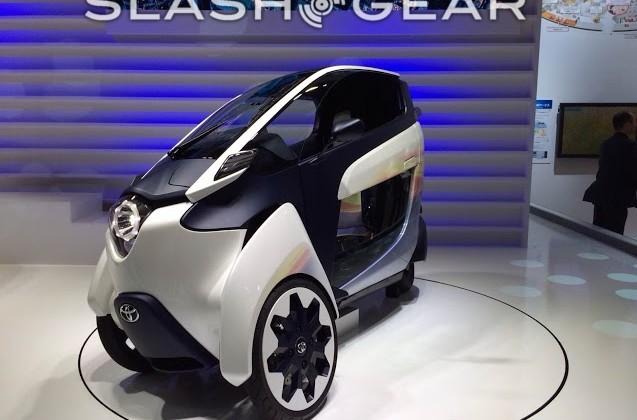 In February, we saw a teaser of Toyota's i-Road, a tandem two-seater urban three-wheeled vehicle, something that later surfaced in a video and alongside more information. Fast-forward nearly a year, and Toyota has officially shown off the car here at CEATEC 2013, giving us a complete look at the vehicle ahead of the test drives it will make available in 2014.
Toyota has dished the complete specs for the small car, which you can see from all angles in our gallery below. As far as dimensions go, the vehicle measures in at 2350- x 850- x 1445-mm, which works out to about 7.7 x 2.8 x 4.75 feet. The wheelbase, meanwhile, is 1700mm, which is about 5.6-feet, making it a very svelte offering for crowded public spaces.
The front tires measure in at 80/80R16, while the single rear tire is 130/70R10. The smallest turning rating for the car is 3-meters (9.8 feet), and the curb weight is 300 kilograms (661 pounds). The power train utilizes an electric motor, with dual 2kw offerings, giving a maximum speed of 45kmh, which is a bit under 30MPH, meaning one shouldn't expect to go long distances at fast rates in this thing.
On a charge — which is achieved with an on-board lithium-ion battery — the driver can expect to travel about 50 kilometers (a hair over 31 miles). Given the speed and range, the i-Road is about what you'd expect from a small urban vehicle — something to take one a reasonably short distance to work or elsewhere that is a bit beyond the reasonable range of walking, doing so faster than one might get from the stop-and-go reality of taking the bus.
As mentioned, the i-Road offers two seats, giving room for a passenger and adding an element of feasibility for use as something more than a novelty vehicle or way to make quick trips to the bodega. What do you think? Let us know in the comments!