Toyota i-Road electric vehicle turns up on video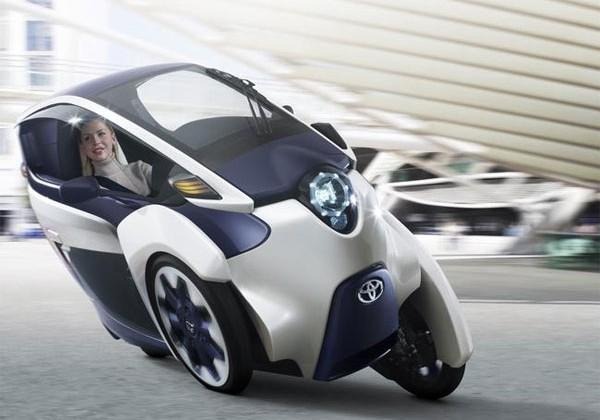 We talked a couple times now about the strange little Toyota i-Road electric vehicle. The car was first seen at the Geneva Motor Show earlier this month. It's rather like a cross between a motorcycle and a very small electric vehicle. There was some indication that Toyota was aiming the vehicle at drivers wanting to split lanes in traffic as motorcyclists often do.
I think the vehicle may be a bit wide for that. One thing that we hadn't previously seen is a CGI video that Toyota offered up showing the strange little electric vehicle in action. If you missed our previous coverage, the i-Road has enough room for two occupants who sit tandem style like riders on a motorcycle inside of an enclosed cockpit.
The electric vehicle uses what Toyota calls "Active Lean" technology that leans into a turn sort of like a motorcycle would do. The vehicle has rear wheel steering and a nearly silent electric powertrain. Toyota says that the little vehicle is good to drive for up to 50 km on a three-hour charge.
Toyota has always been upfront with the fact that this is a concept vehicle. However, Toyota said it would be putting compact personal mobility vehicles based on the i-Road to work as part of an experimental project designed to evaluate market response. Toyota plans to start the project at the end of 2014 in Grenoble, France. The project will last for three years.
[via Toyota]