Though we've seen some lovely Toyota hybrids earlier this month already, the auto company is never satisfied to bring you just what you were expecting – that's why this week they've teased a fabulous new Le Mans-class racing car complete with TOYOYA HYBRID emblazoned across its gigantic shark fin. This vehicle currently comes in a lovely red and white color scheme, rolls around a track with no name, and has car aficionados gripping their kneecaps in anticipation. This vehicle has not yet been named, nor have essentially any of its details been released.
This vehicle is therefor currently classified as a prototype endurance racer, using hybrid technology to race in and out of our dreams with glee. Currently if you want a car in a Le Mans race in the top LMP1 class, you need to be employing a kinetic energy recovery system working with brakes, exhaust, engine, or suspension that allows for electricity generation on the fly. Energy with this type of system is stored in a battery pack or a flywheel from whens it can be directed to the electric motor where it can be used for a boost in power. This also, of course, increases the efficient nature of the vehicle overall. This Toyota hybrid racer with no name undoubtedly uses something to this effect.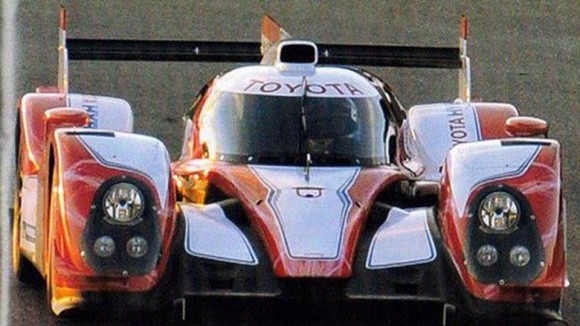 It appear that this car is being prepped for the 24 Hours of Le Mans event this June, 2012, but it may well be popping up in detail before then. The FIA World Endurance Championship races may be the place where this car appears first, it portending what we hope is a high-powered Prius for the mass market soon! Also note, this will be the first time Toyota has competed in a Le Mans race wince 1999.
[via Jalopnik]