Toyota Concept-i RIDE brings AI mobility to forgotten users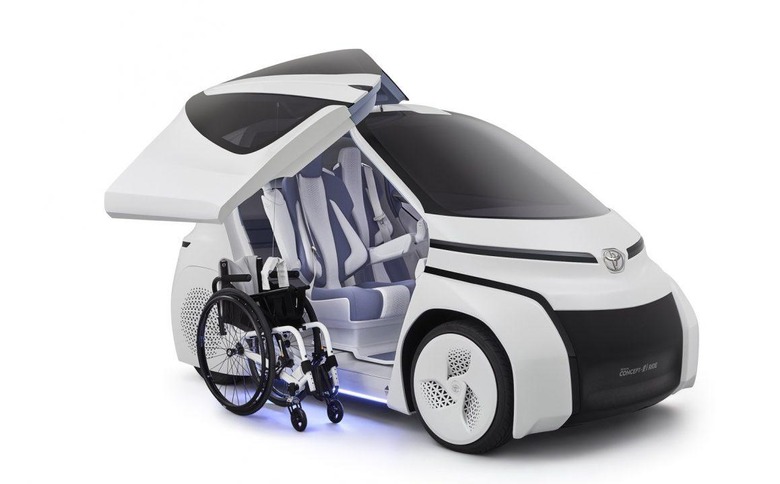 Back when Toyota's Concept-i autonomous car was revealed at CES 2017 in January, the automaker described it as a vision of how humans and AI would travel in partnership. Now, at the Tokyo Motor Show 2017 this week, Toyota is adding two new "friends" to the line-up of concept vehicles. Interestingly, while rivals at the show are pushing sleek coupes or aggressively-designed sedans, Toyota's focus is a group that often doesn't get much attention from concept vehicles.
The Toyota Concept-i RIDE is designed with the understanding that "universal mobility" includes more than just those who can walk on two legs. It's intended to be just as comfortable and convenient to use for wheelchair users as anybody else, with gull-wing doors to maximize entry space, and a slide-out seat that motors out the side of the compact car.
The wheelchair itself can be stored at a space in the back of the Concept-i RIDE, with the passenger seat folding up if it's not required to maximize space. Rather than a steering wheel and pedals, as you'd traditionally find in a car, there's a joystick for steering, acceleration, and braking. The compact footprint – just over 8 feet long, and 4 feet wide – not only makes it nippier around urban environments, but also leaves plenty of room for ingress and egress outside, even in a standard parking space.
Under the body there's an all-electric drivetrain, which Toyota envisages running for 62-93 miles on a charge. While the Concept-i RIDE can be manually piloted, there's also the same AI Agent interface as we saw on the original Concept-i in January. That supports things like automated parking, making the car more usable for the elderly or those with limited mobility.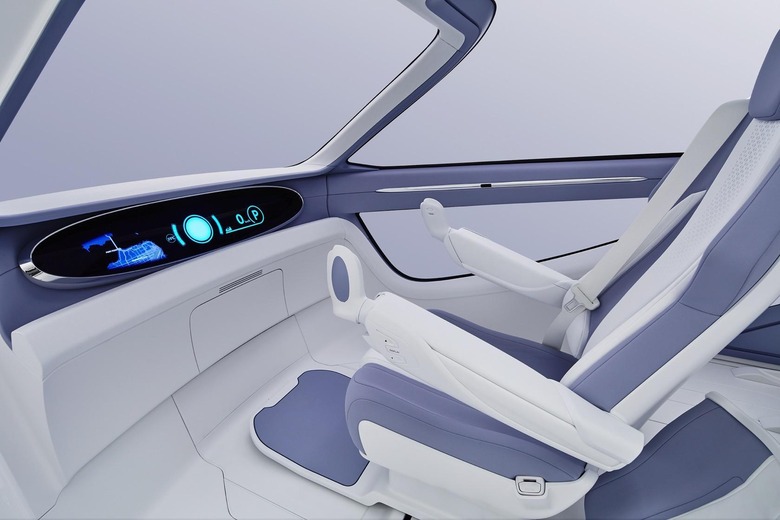 While this is still just a concept, Toyota says it could see the Concept-i RIDE fitting into sharing services well. A single car could therefore be used by multiple people, diluting the cost of ownership and bringing easy mobility to an audience that might not typically have the means or ability to access it.
That same principle carries down to the smallest member of the Concept-i family. The Toyota Concept-i WALK is a standing mobility vehicle, with three wheels and a variable wheelbase to adjust stability. It can turn fully in a shorter distance than the scooter's length – less, Toyota points out, than a typical person's stride – while the width is less than shoulder-width.
Rather than shifting body weight to turn, as some balancing scooters demand, there are more traditional controls. Toyota says that's by design, since it means those with limited mobility can still handle the Concept-i WALK. The floor is lowered, so that it's easier to climb onto too, and the AI Agent steps in as a safety mechanism if it detects a potential peril.
MORE Inside Toyota's Concept-i EV
While manual control is supported, Toyota also suggests the scooter could follow autonomous paths, including a fleet of them being used for sightseeing as you currently see Segways being implemented. All-electric, the range is approximately 6-12 miles, the automaker says.
Clearly, these are all just concept vehicles at present, though if you left out things like true autonomous driving both the Concept-i RIDE and Concept-i WALK look fairly practical as small, urban EVs. More importantly, though, they're a recognition that driverless and driver-assisted transportation has implications beyond just allowing people to take a nap on their commute. As self-driving car startup Voyage discovered when it launched a pilot at a retirement community earlier this year, having access to mobility can be a huge benefit to those with impaired eyesight or difficulty using regular car controls.