Toyota Concept-i's friendly AI is your autonomous car co-pilot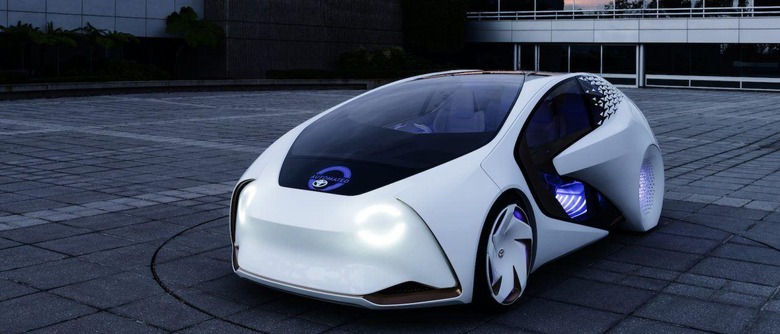 My idea of a talking car is Knight Rider's KITT making snarky rejoinders to David Hasselhoff, but Toyota has more loving discourse in mind with its latest Concept-i. Revealed today at CES 2017, the new vehicle prototype aims to usher in autonomous driving with the aid of the driver-vehicle relationship. That involves an artificial intelligence (AI) called Yui and a whole lot of LEDs.
The Concept-i design itself is certainly striking. Part shuttlecraft pod, part floatation tank, and part handheld vacuum, depending on the angle at which you're looking at it, it's definitely going to get you noticed on the road. Throw in a triple set of gullwing doors – one on one side, two on the other – and you've got a seriously eye-catching ride in the parking lot.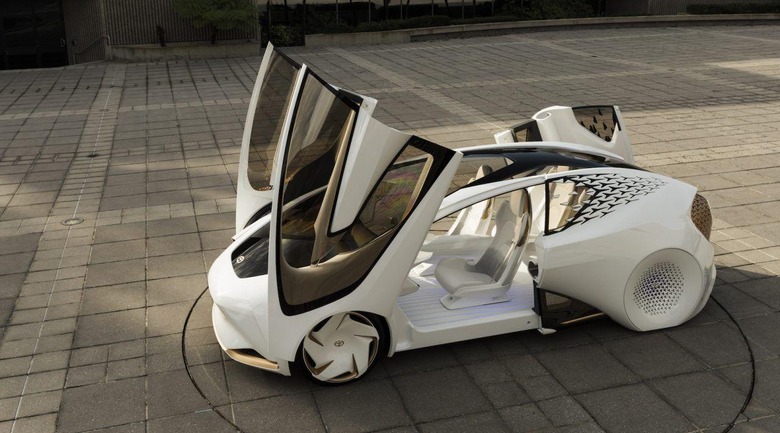 It's the handiwork of Toyota's CALTY Design Research team in Newport Beach, CA, while the user experience technology was cooked up at the Toyota Innovation Hub in San Francisco. Their angle was apparently "kinetic warmth" which Toyota describes as "a belief that mobility technology should be warm, welcoming, and above all, fun."
Yui, as the AI has been nicknamed, uses a variety of sensors – along with pattern and routine observation – to figure out the driver's emotions. Displays built into the exterior can welcome occupants to the car when it's parked, and then communicate to pedestrians about upcoming turns and such while on the road. A bold "Automated" warning on the nose lights up when Yui has control of the wheel.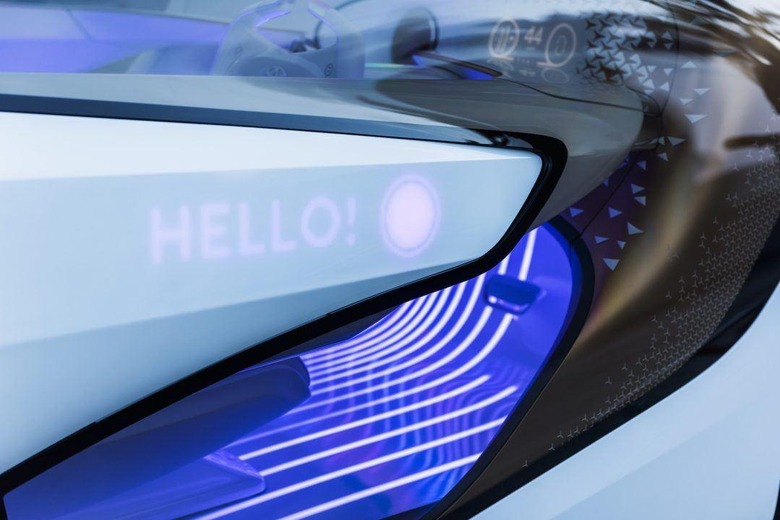 Inside, for a concept there's a surprising dearth of big displays. Instead, Toyota says its approach was to put information in the places you'd naturally expect to find it. So, views from the blind-spot cameras are projected onto the seat pillars so that they're visible when you glance over your shoulder before making a maneuver; a new head-up display is in a more user-friendly position to keep your eyes on the road.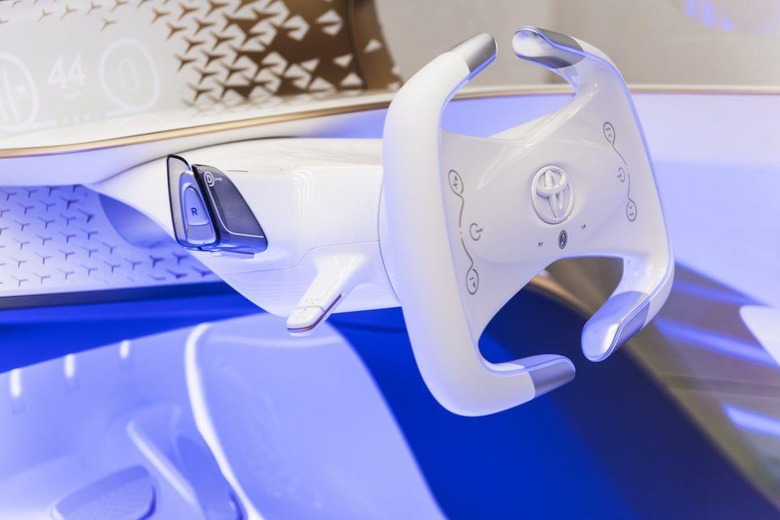 As for autonomous driving – indicated with different colored lights in the drivers' footwell – Yui is designed to always be watching out, even if a human is at the wheel. The AI's involvement might be as minor as injecting a little visual or haptic stimuli to flag a potential hazard that might have slipped the driver's notice, or it could automatically take over driving functions in dangerous conditions or when the human occupant is tired. "The combination gives Concept-i exceptional ability to use mobility to improve quality of life," Toyota claims.
This isn't the first time we've seen Toyota try to inject some familiarity into motoring. Earlier this year, the company established a new company – Toyota Connected – to focus on next-generation infotainment, vehicle-to-infrastructure communication, and driver-distraction avoidance systems. It also suggested that, by monitoring the details we share about ourselves publicly across a range of social networks, our cars could act as a "digital concierge" making suggestions of potential navigation destinations based on interests and past habits.
We'll know whether that all pans out in reality over the next few years. Toyota says it plans to take the Concept-i out for real-world evaluation, albeit in Japan not in the US. It's highly unlikely that this is what your next Prius will end up looking like, but who knows: maybe one day in the not too distant future you'll be holding conversations with the dashboard, rather than just shouting in vain across it at other drivers.