Touch Book feedback continues: beta hiccups or unfair critique?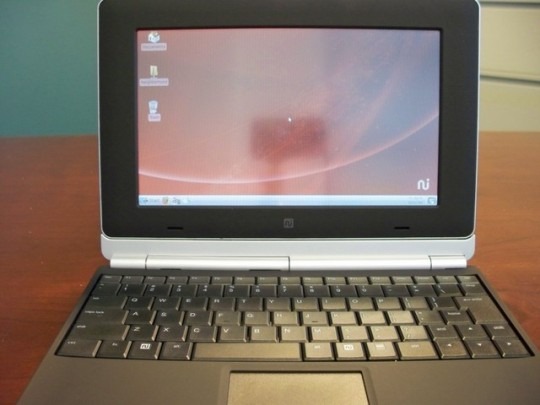 Yesterday's news that the Touch Book was reaching pre-order customers' hands kicked off an interesting conversation with Always Innovating, who felt that our post was unduly negative about what they themselves have admitted is a "beta" product.  Our argument was that it's not just the work-in-progress software that's raising eyebrows, but some of the design decisions – the unbalanced top section that's not countered by the keyboard base, variable build quality – as early owner SteveNYC is reporting over at UMPC Portal.
Steve's overall impression is that it feels like "a mock up", with a difficult, unresponsive touchpad, poorly responsive touchscreen, very small keyboard and poor design of what will be frequently-used components such as the plastic, non-spring-loaded clips that hold the slate to the base section.  He's not talking about returning anything, but he is giving the sort of feedback that early hardware deserves and – we think – demands.
"My issues with the device are not related to the software.  It's beta software and AlwaysInnovating has been upfront about that from the start ... The software WILL improve.  The issue here is simply put... build quality, or lack thereof" SteveNYC
Let's be completely clear about this: we're still interested and excited by the Touch Book.  Developing a new piece of hardware (and the accompanying custom software) with a new start-up team is always going to be difficult, but unfounded positivity to the exclusion of obvious design issues helps neither the company nor buyers.  There is certainly a niche for a low-cost, web-centric device, and the much-rumored Apple Tablet is unlikely to be cheap enough to change that.  The upcoming CrunchPad is more likely to be the Touch Book's primary competitor, and in that battle Always Innovating have strengths like a flexible form-factor and modular, tweak-friendly hardware in their corner.
We're keen to hear your point of view on this; do you think our post yesterday was unduly negative?  What support do startup companies "deserve" from the tech community, and should a smaller firm that, as Always Innovating pointed out to us, has put a full year's work into developing their first product be judged a) on these pages and b) by customers differently to, say, a big name manufacturer?  Let us know your feelings in the comments.