Toshiba's Giant Tablet is a Giant Mistake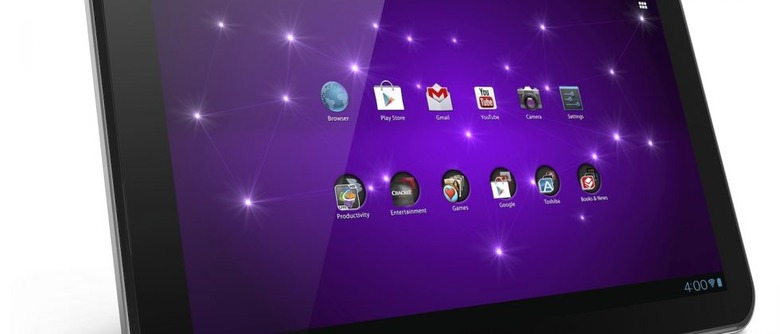 Toshiba needs to take its poorly thought-through Excite 13 slate and go home; it's a tablet travesty. Announced earlier today, the 13.3-inch model is the largest Android tablet from a mainstream OEM to-date, pairing NVIDIA's Tegra 3 and Google's Ice Cream Sandwich for what Toshiba claims is an untapped slice of the finger-friendly market. The company has done its research, too, though whether its conclusions make sense is worth a second look.
According to Toshiba's homework, a big chunk of tablet owners don't actually take their slate out of the house. That group, the company reckons, is desperate for a bigger screen experience than the current tablet cohort offers, content to trade portability for more pixels spread across a large touchscreen.
And that's just what the Excite 13 delivers: broadly the same specifications as the Excite 10, with its far more typical 10.1-inch display, but with a 13.3-inch 1600 x 900 panel. The obvious comparison – and one which overshadows the Toshiba on pixel density at least – is Apple's new iPad, with its 9.7-inch 2048 x 1536 display. However, until the rumored Full HD Samsung models arrive, it's the highest-resolution Android tablet we've seen to-date.
Is that resolution put to good use, however, or cost-effective? 1080p video obviously is still a no-go, though Toshiba does include a desk stand for propping the Excite 13 up during playback. The Micro HDMI port supports 1080p-out, but then so does the smaller Excite 10. Content creation is another possibility, but there's no full-sized USB port to hook up a keyboard or mouse.
[aquote]It's apps that are the biggest drawback for the Excite 13[/aquote]
A unique product generally carries a higher price tag, and the Excite 13 is no different. At $649.99 for the 32GB model or $749.99 for the 64GB, it's $50 more than the equivalent WiFi-only new iPad; however, it's also only just cheaper than a full ultrabook. Toshiba's Portege Z830 remains one of the lightest 13.3-inch ultraportables around – 2.44lbs versus the Excite's 2.2lbs – and can currently be had for $780. Yes, you lose the touchscreen, but you get a full keyboard and the flexibility to run desktop apps if you prefer.
In fact, it's apps that are the biggest drawback for the Excite 13. Ice Cream Sandwich tablets still suffer from the same software shortcomings as their Honeycomb predecessors: too few slate-specific titles, and far too many designed for phones and simply shoe-horned onto tablets. That may look okay on a sub-8-incher like the Samsung Galaxy Tab 7.7, and even be acceptable on a 10.1-inch model, but spread across 13-inches?
Android manufacturers need to wake up to the fact that they can't keep pushing ahead with hardware without the software ecosystem in place to support it. Web browsing may benefit from the extra pixels, but there's more to a tablet than the internet.
Toshiba would've done better to have saved the money it spent developing the Excite 13, and spent it instead on a team of software developers to come up with some iconic applications for Android tablets. Not unnecessary media player reskins or ebook reader apps, but something the company could legitimately point to and say "this is why you want an Android device not an iPad." That would've been something we could have got truly excited about.