Toshiba: The world needs a 13-inch Android tablet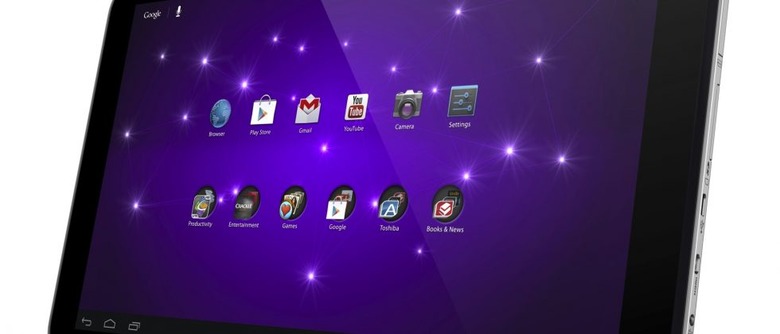 Toshiba has launched a new range of Excite Android tablets, spanning 7.7-inches to 13-inches and each running NVIDIA's quadcore Tegra 3 processor. The new Excite 10, Excite 13 and Excite 7.7 slates run Android 4.0 Ice Cream Sandwich and have a 5-megapixel main camera along with 2-megapixel front cameras; they also offer, in the form of the Excite 13, one of the biggest screen resolutions we've seen so far on an Android tablet, running at 1600 x 900.
The Excite 10 is the mainstream model, with a 10.1-inch 1280 x 800 10-point multitouch display in a 0.35-inch thick chassis that weighs 1.32 pounds. Runtimes of up to 10hrs and standby of a full week is promised, along with 1GB of RAM; connectivity includes WiFi and Bluetooth, plus micro HDMI, a microUSB port and a full-sized SD card reader.
If that's not big enough for you, the Toshiba Excite 13 fits a 13.3-inch LED-backlit 16:9 display into a 0.4-inch thick, 2.2 pound casing. It has quad speakers with SRS Labs audio, an included tablet stand for when it gets too heavy for you, and the same 1GB of RAM and Tegra 3 as its smaller brethren.
However, Toshiba has also been able to use the space to fit in more batteries, so you get up to 13 hours of runtime or up to seven days of standby. Ports are the same as on the Excite 10.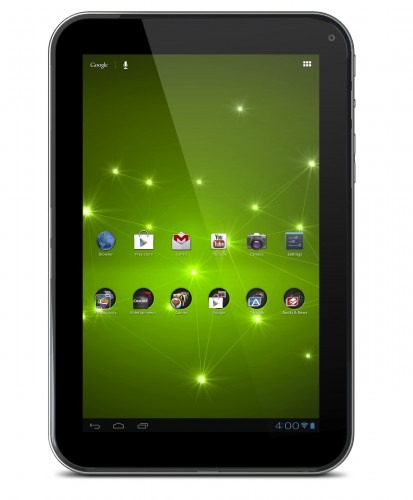 Finally, the Toshiba Excite 7.7 follows in Samsung's footsteps with the Galaxy Tab 7.7, packing an AMOLED display into a compact 0.3-inch thick, 13.4 ounce slate. It has a microUSB port and microSD card slot, though no sign of a dedicated HDMI connection.
All three will get various custom Toshiba apps alongside the Android usual, including ebook software, a media streaming tool, and preloaded Netflix and Zinio apps. The Excite 10 will go on sale in May, priced at $449.99 for the 16GB model, $529.99 for the 32GB model, and $649.99 for the 64GB model.
That will be followed by the Excite 7.7 and Excite 13, both arriving at the beginning of June. The 13-incher will be $649.99 for the 32GB and $749.99 for the 64GB, while the 7.7-incher will be $499.99 for the 16GB and $579.99 for the 32GB.