Toshiba's Fire TV Edition Hands On: Alexa-Smart TV Ships Today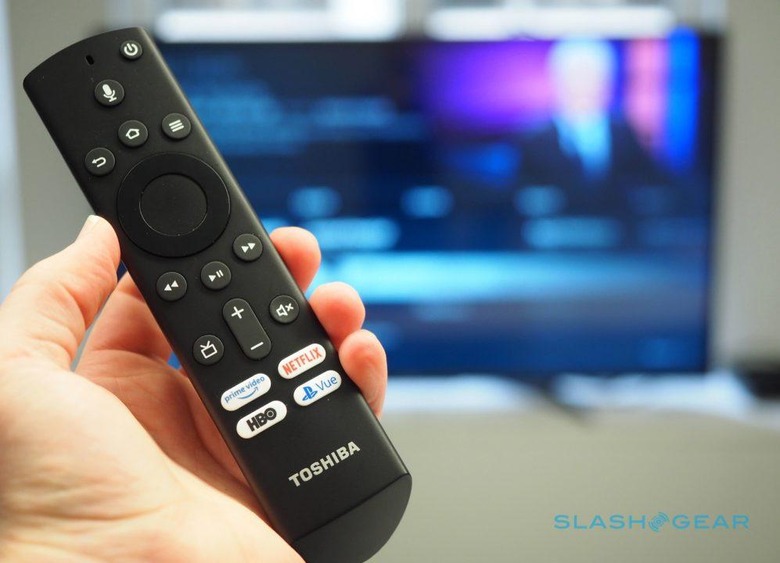 We may receive a commission on purchases made from links.
If the Fire TV Cube caught your eye, but your TV itself is due an upgrade, Amazon and Toshiba are hoping their new smart TV collaboration will fit the bill. The Toshiba 4K Ultra HD Smart TV Fire TV Edition may not have an elegant name as it begins shipping today, but as I discovered with an early play, it does a surprisingly smooth job of integrating Amazon's set-top box at an affordable price.
The concept is straightforward. Rather than buying a dumb TV and then plugging in a Fire TV Stick or Fire TV 4K, the set itself has Amazon's hardware and software integrated. Indeed, while Toshiba may be responsible for the TV set itself, Amazon is in charge of the UI.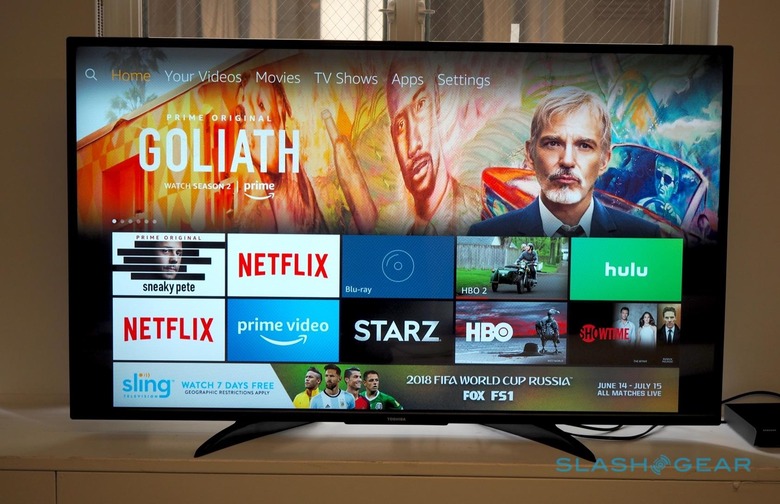 As a result it's a familiar experience if you've used a recent Fire TV product. Movies and TV shows are organized into side-scrolling bars – Amazon calls them "Feature Rotunda" – with apps for popular streaming services like Netflix, Hulu, and PlayStation Vue. However, like a regular TV, there's also an OTA tuner.
Toshiba has three models, differentiated only by screen size. Most affordable is the 43-inch, at $329.99. Then there's a 50-inch, for $399.99. Finally, the 55-inch comes in at a still-reasonable $479.99.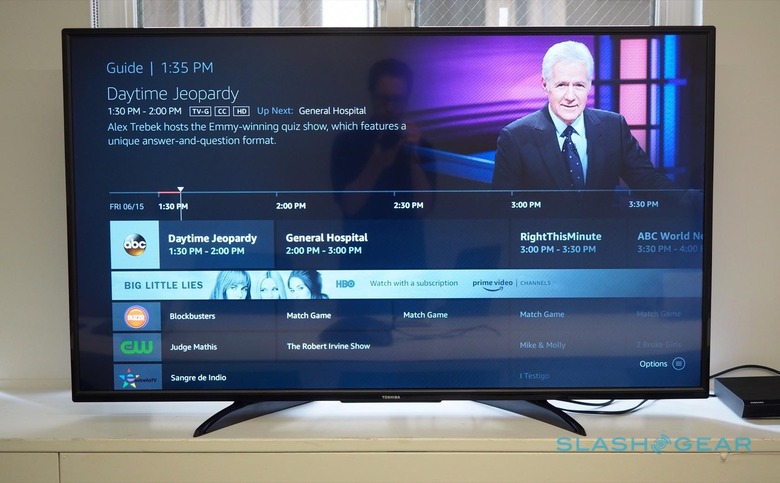 All three have a 4K Ultra HD 60Hz panel with Direct LED backlighting. There are two HDMI inputs and an HDMI with ARC support, an antenna input, optical SPDIF input and output, USB 2.0, ethernet, RCA audio, and a headphone jack. Toshiba has teamed up with Onkyo for the speakers. WiFi and Bluetooth 4.1 are integrated too; the latter works with Amazon's remote control.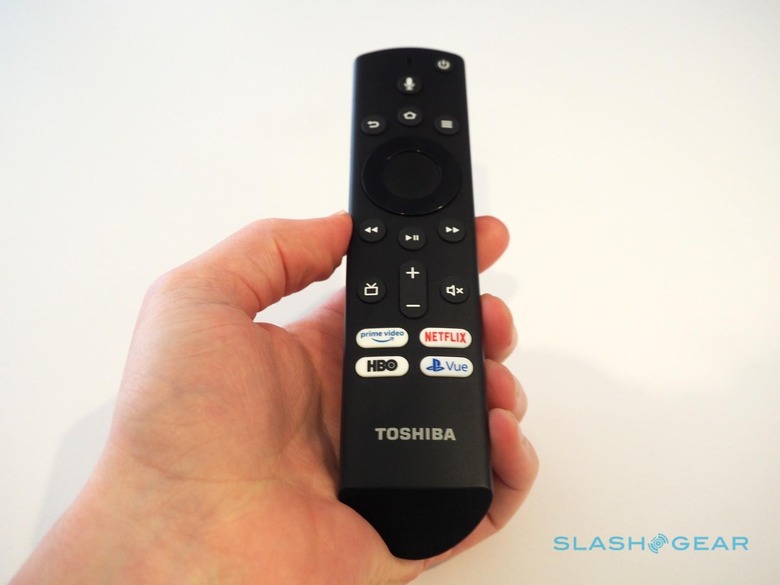 At first glance that's what we're used to from the standalone Fire TV boxes, but Amazon has added some very useful extra buttons this time around. Most welcome are the volume and mute keys, something the Fire TV Cube's remote really ought to have had. There's also a channel guide button, and shortcuts to four streaming services: Prime Video, Netflix, PlayStation Vue, and HBO.
Aa you'd expect there's also a microphone button to use the remote to control Alexa. Alternatively, you can pair an Echo smart speaker to the TV, and control it by voice instead. There's support for switching inputs by voice – you can name them to make it easier – as well as finding content through searches. Amazon defaults to loading any free way of watching search results first.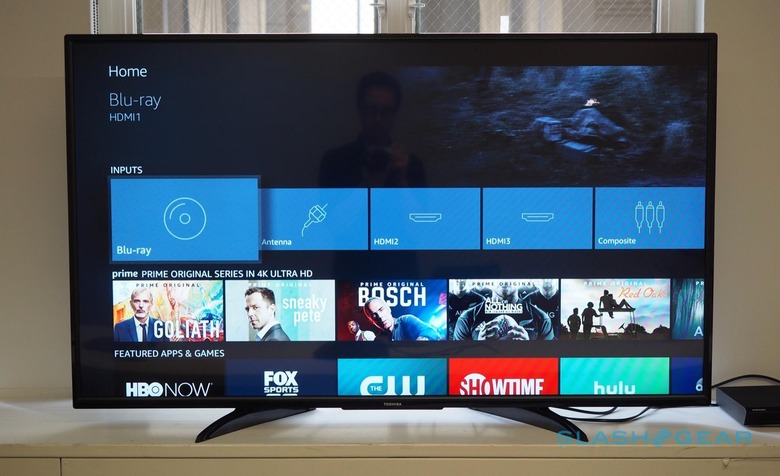 Where the Toshiba Fire TV distinguishes itself is the addition of live content. There's an "On Now" Feature Rotunda, which shows what's currently being broadcast. It pulls not only from OTA channels, but live content on Hulu and SHOWTIME if you have the relevant subscriptions. There are thumbnails of the current show, which you can also pull up in a bar at the bottom of the screen while you're watching something else, should you be feeling indecisive.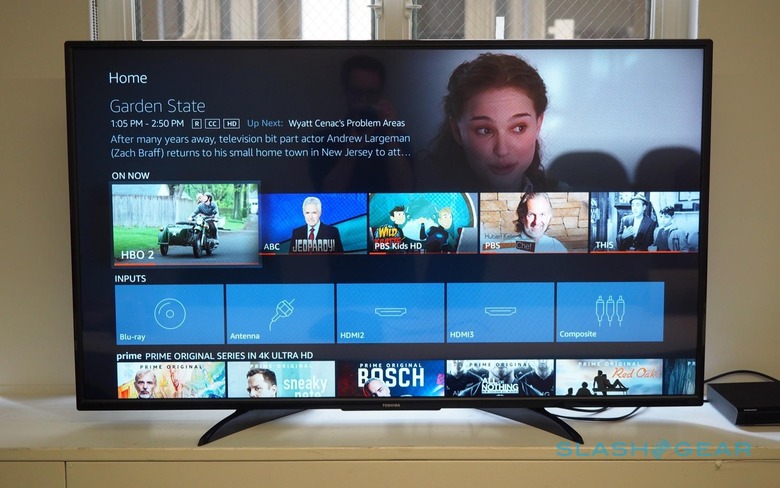 Alexa can search through live content too. The "On Now" bar, meanwhile, is sorted by what you viewed recently, though Amazon tells me it's working on other sorting options. It'd be nice to be able to pin favorites there, after all. In the program guide there's show information along with a progress bar, indicating how far through the broadcast is.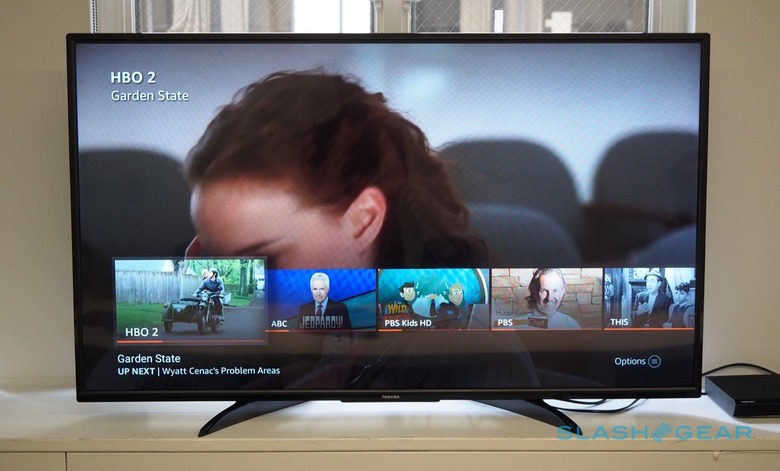 There's a lot to like about the Toshiba Fire TV. Alexa integrates nicely, though the extra buttons on the remote mean you can still do all the basics without speaking if you prefer. Amazon tells me it plans long-term support for the software, too: you may not get the most cutting-edge features from future Fire TV boxes, based on the limits of the Toshiba's current-gen hardware, but I'm told it wouldn't be unreasonable to expect 5-7 years of updates.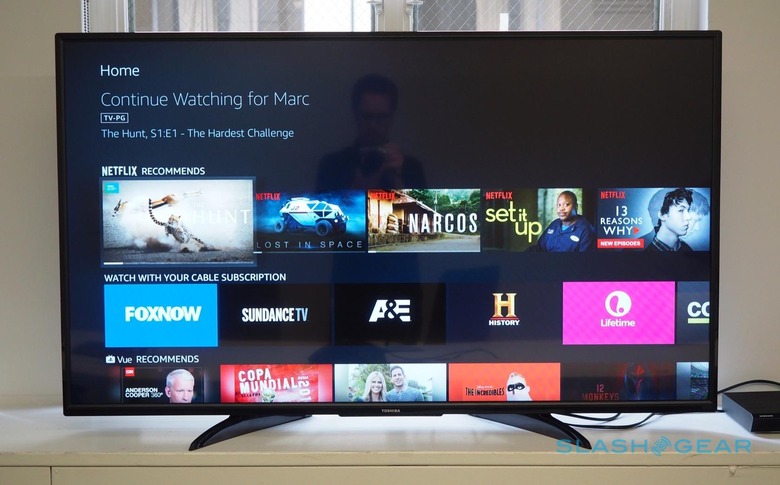 Certainly, if you face a regular content overload whenever you settle down to watch something, the Toshiba Fire TV could help address that. I can't help but wish that Alexa did more personalization, though. Right now there are suggested shows from each of your streaming provider subscriptions, based on what you've already watched, but Alexa can't do the same for OTA shows. It'd be great if she could flag an upcoming broadcast of something you're predicted to enjoy because of the theme, director, actors, or some other factors.
Maybe it's too early in the day for that. Still, Amazon has big ambitions for TVs with Fire TV baked in. There'll be ten Fire TV Edition models released in 2018 alone, with Toshiba and Insignia two of the big names already committed. If you're convinced, you can find the trio of new TVs in Best Buy stores and at Amazon today.
SlashGear uses affiliate links, and sometimes if you buy something we might get a small percentage of the sale