Toshiba Thrive Update Available Now, Fixes Resume From Sleep Issue

Toshiba has just delivered on their promise of an update for the recently launched Toshiba Thrive Android 3.1 Honeycomb tablet that should fix the sleepy firmware issue. The update comes after some users reported that the tablet would not wake from sleep mode, requiring them to reboot or even reset the tablet.
We've recently done a full review on the Toshiba Thrive and so we also checked for the update on our unit. It is indeed there as the screenshot below indicates. To get the update, you'll have to use Toshiba's Service Station utility app, which can be found in your apps panel. Not only should it fix the resume-from-sleep issue, it should also add some improvements to multimedia playback.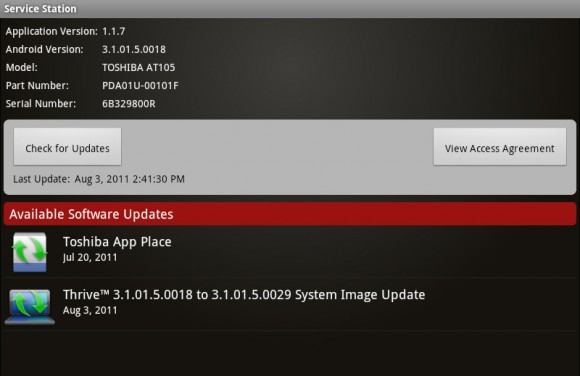 Toshiba released the following statement regarding the software update:
A limited number of Thrive Tablet users have experienced a Resume issue when in Sleep mode. Toshiba has released a software update to resolve this issue, improving the sleep-and-resume performance, as well as enhancing the multimedia playback capabilities of the device. The software update can be downloaded through the Toshiba Service Station utility app found on the Thrive Tablet.
If you experienced this issue with your Toshiba Thrive, let us know if the update fixes the problem for you. And also let us know how you're enjoying your Thrive's abundance of ports.