Toshiba TG03 hits GCF: another Windows Phone 7 smartphone?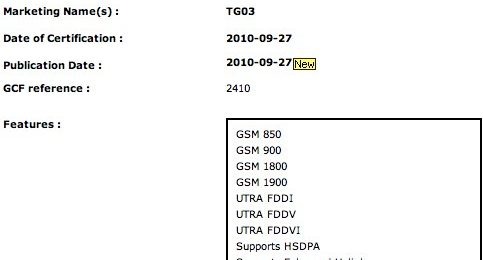 Toshiba's TG01 and TG02 hardly set the world alight, but the company could be hoping that they're third time lucky.  A new listing at the Global Certification Forum for the Toshiba TG03 has prompted speculation that this could be the company's first Windows Phone 7 handset, since the last two ran Windows Mobile 6.1 and 6.5.
The listing itself is sadly short on meaningful specifications, only listing quadband GSM/GPRS/EDGE and triband (800/850/2100) UMTS/HSPA.  That leaves us in the dark as to whether Toshiba are sticking with Qualcomm's Snapdragon processor, as with the TG01 and TG02.
It's not the first time we've heard about the TG03; back in early 2009 the smartphone was listed on a leaked Toshiba roadmap as pencilled in for release in Q4 that year.  Of course, it failed to materialise and indeed the TG02 wasn't shown until Mobile World Congress in February 2010.
[via the::unwired]