Toshiba's Product Roadmap Leaked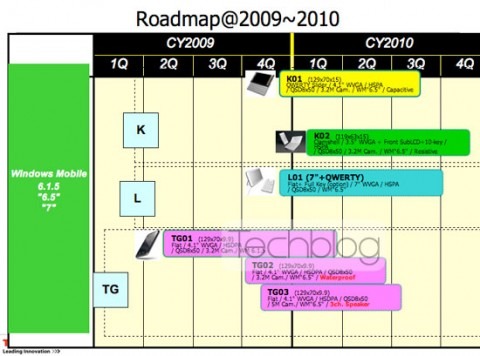 If this is authentic, Toshiba has some interesting products lined up through 2010. Techblog.gr leaked a powerpoint slide of Toshiba's product roadmap featuring a few handheld computers featuring the Qualcomm SnapDragon platform. There were prototypes first demoed at CES earlier this year, and from the looks of it, those prototypes are ending up as real products.
There are multiple handheld products that will all feature touchscreens and some will have QWERTY keyboards. The TG01, 4.1" handheld will be released with an update as the TG02 in Q4 of 2009; basically the same product except waterproofed, and the TG03 later in Q4 will add a 3" speaker. Also in Q4, Toshba is going to launch a 15-mm QWERTY slider version TG01. The new model will feature a capacitive touchscreen and will use WinMo 6.5.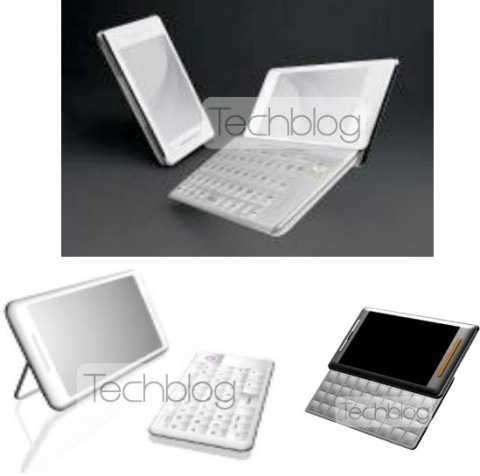 The K02 clamshell with a 3.5" display and QWERTY keyboard on the inside, and a secondary 10-key screen keypad on the outside. The K01 will have a resistive touchscreen and an HSPA data connection. Finally, the 7" L01 will launch Q4 of 2009, and will deliver on the promise made by Toshiba to have a fuel-cell powered device on the market before March of 2010. The L01 will use Windows Mobile 6.5 and have the same WVGA resolution as the other smaller devices. These are all assuming the leak is genuine, which the slide looks to be.
[Via Engadget and Techblog.gr]