Toshiba TG01 Video Demos: GUI, gaming & video playback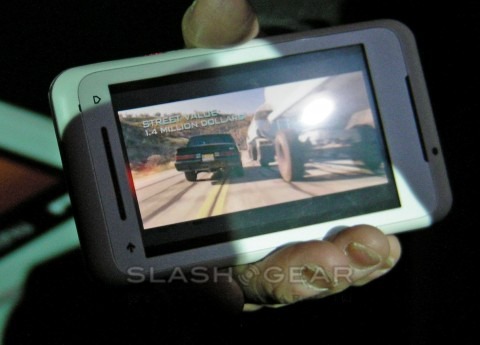 Aside from the super-skinny profile of the TG01, Toshiba seems most proud of their new GUI, the smartphone's gaming abilities, and its media playback charms. Since it would be rude to ignore a proud parent, SlashGear got some live footage of the TG01 in action at the London launch today. Check out the video – now available in HD – after the cut.
The GUI – which Toshiba don't appear to have named – sits on top of Windows Mobile 6.1 and aims to make it more finger-friendly. It's not as obviously linear as HTC's TouchFLO 3D, with various different types of rotating vertical panes that can be swept through with a sideways gesture. Alternatively, Toshiba have given the TG01 the ability to flip through open applications by tilting the handset left or right, using the accelerometer. There are also new settings menus, including one which lets you manually throttle the 1GHz Qualcomm Snapdragon chipset.
For gaming and media playback, meanwhile, it's that 1GHz CPU that is making everything possible. The video, sadly, doesn't do the TG01 justice – in person the 384k pixel 800 x 480 display is amazingly crisp and bright, with well-saturated colors and little motion blur that we could see. We're still not convinced about the controls in the driving game Toshiba demonstrated, and since the resistive screen lacks multitouch it'll be interesting to see how developers get around the lack of physical buttons, but perhaps use could be made of the on-screen trackpad that otherwise only really shows up in Internet Explorer Mobile 6.
For more live photos of the Toshiba TG01 click here, while for the full announcement you'll be wanting to click here.  To watch the YouTube video in HD, click here and choose "view in HD".
Toshiba TG01 demo: