Toshiba pick AMD Puma for new Satellite laptops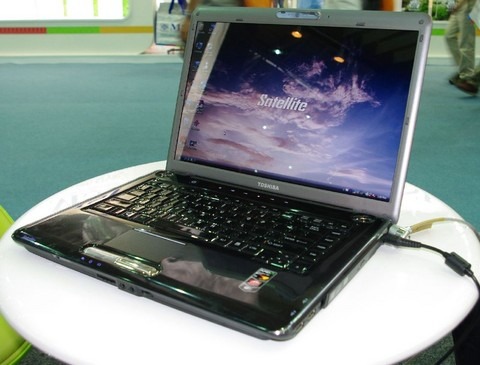 Mere hours after AMD announced their new Puma platform, Toshiba has stepped up as the first manufacturer to confirm they will be featuring the Turion-based technology in their notebook PCs.  Six models in the Satellite range will be offered with both Turion and Athlon options, available at some point over the Summer.  Three versions of the chips will be used: the Athlon Dual Core QL, the Turion Dual Core RM and the Turion Ultra ZM.
Toshiba has confirmed that those models with AMD chipset options are to be the Satellite P300D, Satellite A300D, Satellite M300D, Satellite U400D, Satellite L300D and Satellite L350D.  These cover everything from multimedia to super-portable machines.  Existing Intel-powered versions will remain alongside the AMD chip notebooks.
NotebookReview have already managed to snatch some time with the Toshiba A300D, which packs the AMD Turion Ultra ZM TL-80 processor running at 2.1GHz.  They've run some comparison benchmarks against an Intel-powered version of the same computer, and come away with mixed feelings.  While connectivity has undergone a welcome change – with a new eSATA hookup and HDMI output – the score in wPrime was actually two seconds slower than the 2.1GHz Core 2 Duo T8100 machine. 
"I was pleased to see a fast refresh of the Toshiba Satellite A305D in person with the new AMD Puma platform. It has all of the great features and styling of the A300, as well as a few upgrades from the past model with the inclusion of HDMI and eSATA. My only concern is the less than stellar system performance and battery life, which should have at least been on par if not better than the previous model" Kevin, NotebookReview
Press Release:
TOSHIBA SUPPORTING LATEST AMD COMPUTER PROCESSOR TECHNOLOGY

Next-Generation AMD CPUs to Be Available Across Entire Satellite Lineup

 

IRVINE, Calif., (June 4, 2008) – Toshiba's Digital Products Division (DPD)

today announced its support of AMD's next generation of Athlon™, Turion™ and Turion Ultra microprocessors technology. These advanced CPUs are available throughout Toshiba's lineup of Satellite® laptops, and provide users with greater choice and variety while delivering ample strength to power the most demanding applications.

Sporting a strong blend of options, AMD's microprocessor line offers consumers a rich assortment of CPUs that have been proven to provide premium performance. Whether interested in games, movies, Internet, creative writing or many other casual and professional pursuits, the new AMD-powered Satellites providesuperior graphics and mobile performance together with efficient use of system resources for maximum battery life.

New models of the Satellite P300D, Satellite A300D, Satellite M300D, Satellite U400D, Satellite L300D and Satellite L350D series will be offered with variations of the AMD Athlon™ Dual Core QL, Turion Dual Core RM and Turion Ultra ZM processors1 technology. Toshiba's AMD-powered Satellite series will be available this summer from a variety of major consumer electronics and computer stores nationwide with models carrying variations of the AMD Athlon Dual Core QL and Turion Dual Core RM to be available directly from Toshiba atwww.toshibadirect.com.

All new Toshiba notebooks are RoHS-compatible2, effectively reducing the environmental impact by restricting the use of lead, mercury and certain other hazardous substances. Toshiba also offers a computer trade-in and recycling program to reduce environmental impact and promote efficient utilization of resources. All Toshiba computers qualify for free recycling, while non-Toshiba computers and other consumer electronic products can be recycled for a small fee. For more information please visit: www.explore.toshiba.com/green.

1. Processor. CPU performance may vary. See Processor Legal Footnote at www.info.toshiba.com

2. RoHS. This product is compatible with European Union Directive 2002/95/EC.  See RoHS legal footnote at www.info.toshiba.com

© 2008 Toshiba America Information Systems, Inc. All product, service and company names are trademarks, registered trademarks or service marks of their respective owners. Information including without limitation product prices, specifications, availability, content of services, and contact information is subject to change without notice.