AMD Puma platform launches with Turion X2 Ultra Dual-Core CPU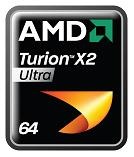 AMD has announced its latest mobile processor, the Turion X2 Ultra Dual-Core, which together with the ATI Radeon HD 3000-series graphics will form the basis of its new Puma mobile platform.  The company is claiming their focus has been multimedia performance and energy efficiency; one or both of the CPU cores can be throttled down or cut completely depending on load, as can the integrated memory controller, and it can selectively offset graphics encoding/decoding to a dedicated video processor when under stress.  While systems using Puma will be available shortly, late in Q3 AMD will begin shipping versions of the platform with PowerXpress: the ability to switch between onboard and discrete graphics chips without requiring a reboot.
AMD will not be pushing a mandatory networking component with Puma, preferring to leave OEM manufacturers to select their own hardware.  However they are offering Atheros, Broadcom and Ralink connectity technologies, including draft-n WiFi and multiple 3G WWAN options. 
Acer, Asus, Clevo, Fujitsu, Fujitsu Siemens Computers, HP, MSI, NEC and Toshiba all have Puma-based systems in the works or ready for release.  Screen sizes will range from 12 to 18-inches, but none will be ultraportables.  Unlike Intel's Centrino chipset, however, AMD's hardware partners will not be using a "Puma inside" sticker; customers will only really know by checking the spec-sheet for the Turion X2 Ultra processor, the 3000-series video (or the new mobile AMD 7-series chipset, AMD M780G and AMD SB700, which feature integrated ATI Radeon HD 3200 Graphics and offer support for Microsoft DirectX 10) and the 780 chipset.  AMD are particularly proud of the integrated M780G/SB700 graphics, which offer up to three times the 3D graphics performance of comparable competitor graphics as well as advanced high-definition playback.
You can see AMD's video demo of the new Puma platform here.