Toshiba Folio 100 hands-on [Video]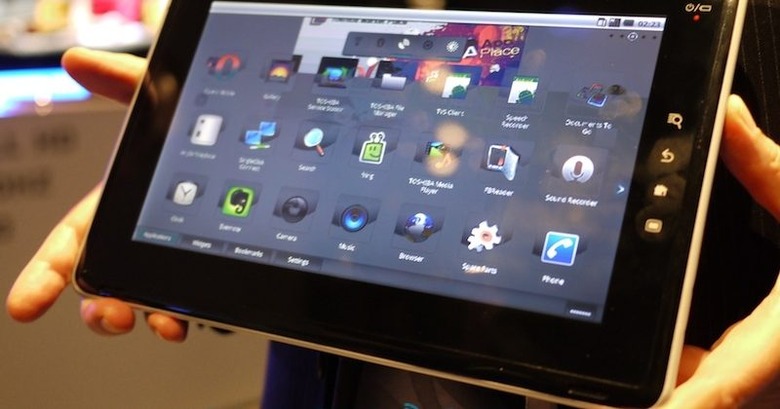 Toshiba launched their Folio 100 smartpad earlier this week, and we grabbed some hands-on time with the Android 2.2 Froyo table at IFA 2010 today.  The second significant Android slate of the day – after we played with the smaller Samsung Galaxy Tab earlier on – it's a bigger beast too, with a 10-inch capacitive touchscreen (with 4-point multitouch) and NVIDIA's Tegra 2 chipset like its AC100 sibling.  The good news is that it's a reasonably decent slate; the bad is that it looks like it won't be reaching the US.
Hands on, it's a broad and wide beast in comparison to the Galaxy Tab, though slim with it.  Toshiba .  The touchscreen proved patchy in its responsiveness, sometimes taking a couple of taps before registering, though the units we were using were production-ready hardware running non-final software.  The UI from the AC100 has been carried over to the Folio, and makes far more sense in a touch-based machine, with a row of shortcuts – to apps, bookmarks, etc – along the bottom of the homescreen.
[vms dffea144f9ac5dc9f339]
Still, it's pretty obvious that Android still isn't 100-percent ready for tablet deployment, and that shows.  Toshiba have produced their own workarounds – they described them as "wrapping" the OS – but some tasks are simply trickier or less intuitive than, say, an iPad.  Media playback, though, is strong, with a high-resolution video looking smooth and slick on the bright LCD display.
Connectivity includes full sized and mini USB, a headphones socket, HDMI and an SD card slot to augment the slate's 16GB of internal storage.  There's a webcam on the front, together with four touch-sensitive buttons, and the back panel is textured which makes it relatively easy to grip.  Battery life is rated at around 7hrs, based on predominantly web-browsing and a little video playback.
As for upgrades, while the Folio 100 will launch in Q4 2010 with Android 2.2 Froyo, there's also talk of Gingerbread 3.0 in Q1 2011.  That's not definite, yet, though the Toshiba people we spoke to said they expected it to be the case.  In the UK, Toshiba expect the Folio 100 to be priced at £329 ($505); however they don't expect it to go on sale in the US, since the American market isn't apparently open to it.  Now's the time to start petitioning your local Toshiba rep if you feel different.