Toshiba Folio 100 Smart Pad Packs Tegra 2 & Android 2.2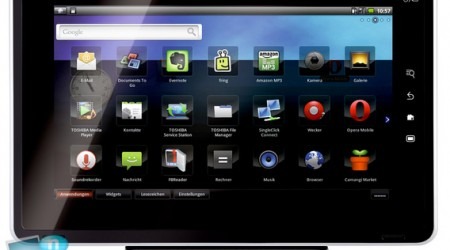 Toshiba's 10-inch Android "Smart Pad" slate has been revealed and named, with the Tegra 2 based tablet believed to be the Toshiba Folio 100.  It'll pack a 10.1-inch 1024 x 600 multitouch display, according to NotebookItalia, along with Android 2.2, 16GB of internal storage, WiFi b/g/n, Bluetooth and 3G.
Meanwhile, unlike an iPad, there'll be plenty of physical ports too.  They'll include HDMI, both a full-sized USB 2.0 and a mini version, a 3.5mm headphone jack and an SD card reader.  There's also a 1.3-megapixel webcam, stereo speakers and microphone, while Toshiba apparently reckon the 1020mAh battery is good for up to 7hrs of "mixed use" (defined as a combination of browsing and video playback).
The whole thing tips the scales at 760g and measures 281 x 181 x 14 mm; Toshiba has also readied a useful little charging dock which we're guessing will also have HDMI outputs.  Android 2.2 apparently boots in under thirty secongs, with access to Toshiba's own app marketplace (though not, from the sound of it, the full Android market), and the Opera browser is preloaded along with Flash Player 10.1 and various other apps.