Toshiba Excite Write, Pro and Pure tablets hands-on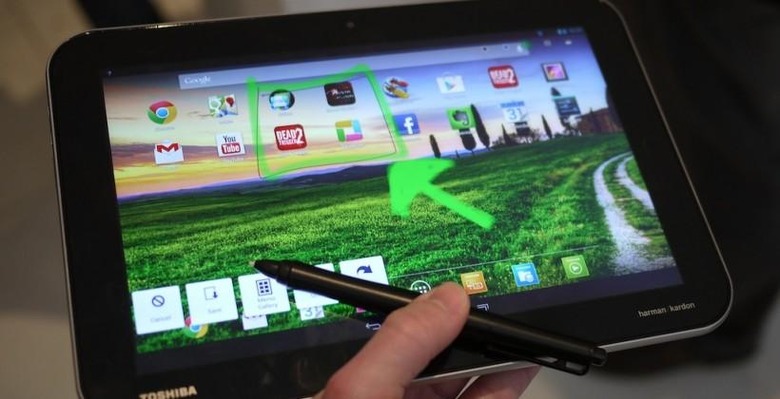 Toshiba has three new tablets for Computex 2013, and while none can match the miserly $129 price tag of the ASUS MeMo Pad HD 7, the 10.1-inch range still promises something for most tableteers. We caught up with Toshiba today to check out the Excite Write, the Excite Pro, and the entry-level Excite Pure, and to see whether the company's liberal splashing of high-res screens and digital pen functionality made the Excite series the tabs to pick from. Read on for some first-impressions.
Outwardly, all three share the same aesthetic, similar at first glance to previous Toshiba tablets (and, to the casual look at least, to the first-gen iPad). The casing is plastic, not metal however, and given a rough, nutmeg-grater-like texture which makes it grippy but, if we're honest, not feel particularly premium to the fingertips. They're also not the thinnest tablets around – 10.5mm thick for the Pro and Write, 10.2mm for the Pure – with weight hovering at the 600g mark for the Pure and 632g for the Pro/Write.
The Pure is the cheapest of the trio – $299.99/£249.99 – though it's hardly ground-breaking. Tegra 3, 1GB of RAM, and 16GB of onboard storage are par for the course in low-cost tablets, as is WiFi a/b/g/n and Bluetooth 4.0. There'll be a 3G option, but Toshiba hasn't price it up yet; otherwise, you get micro HDMI, microUSB and a microSD card slot, a 3-megapixel camera on the back, a 1.2-megapixel camera up front, and stereo 0.7W speakers.
The 10.1-inch, 1280 x 800 display is decidedly average, with good colors when viewed face-on but which sour somewhat as you look at the screen askance. Performance of Android 4.2 Jelly Bean is solid though nothing outstanding. Toshiba can't help but push a keyboard, however, with the detachable folding Keyboard Cover adding a reasonably-sized layout with acceptable travel.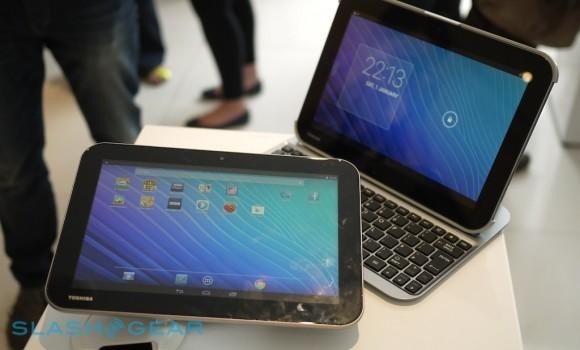 Things start to get more interesting when you step up to the Excite Pro and Excite Write. For the most part they're identically-spec'd: you get a 10.1-inch 2560 x 1600 display that looks fantastic face-on, but which has the same narrowish viewing angles of the cheaper tablet, and NVIDIA's Tegra 4 chipset with 2GB of RAM and either 16GB or 32GB of storage.
Wired connectivity options are the same as before, but the wireless array steps up to WiFi a/b/g/n/ac along with the Bluetooth 4.0, together with LTE as an option. The main camera is now an 8-megapixel shooter, and there's an HDR mode. Harmon Kardon has been tapped for its speakers, with 1W stereo on the back edges.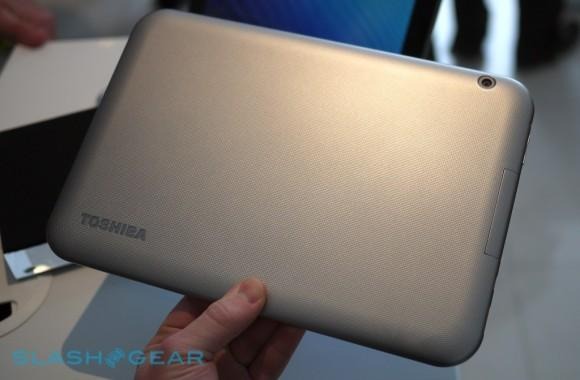 In the hand, the same somewhat cheap feeling lingers – Toshiba's plastics are sturdy, but they hardly fill you with premium confidence – and it's not instantly obvious where the Tegra 4's extra turn of speed comes in. Still, that's more to do with the third-party apps you load, and we spent more time with Toshiba's suite of TruNote apps for the Write variant.
The chunky stylus – which has no dock to slot into the tablet itself, unfortunately, though you do at least get a pocket-clip – can be used with its nib and flipped to strum the eraser head against the screen; there's also a side-barrel button for secondary functions. Unfortunately, Toshiba TruNote doesn't quite hit the spot for perfect digital inking: there's noticeable lag between you writing out words on the screen and the ink flowing, though when it does emerge it's smooth and looks good on the high-res panel.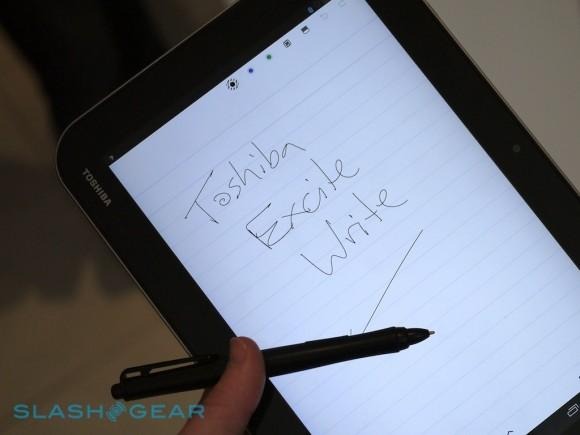 One of TruNote's party tricks is being able to flip handwritten notes and hand-sketched graphics into text and art, though it probably comes as little surprise that we had mixed results. Our first attempt at cursive was simply too confusing for the Excite Write; when we forced ourselves to be a little more careful, the system managed to get roughly 50-percent of the text right. However, at other times it flipped the sentence order around – we exported a handwritten note to a text email, and got the words juggled nonsensically, for instance.
There's also the possibility of grabbing a screenshot and annotating that. Unfortunately, that's similarly sluggish, and Toshiba's TruNote clipping interface is puzzling. What should be a simple process – snap a shot, grab a particular color and thickness of pen, annotate, and save – ends up being an exercise in frustration as you tap, tap-and-hold, try to find suitably contrasting colors, and generally grow frustrated by the system.
It's reminiscent of Microsoft's OneNote app, back in the days of Windows XP Tablet Edition, complete with both the laggy ink and the patchy conversion technology. Unfortunately for Toshiba, we're ten years further on from XP Tablets, and Microsoft's digital inking experience has come on leaps and bounds in the meantime. Factor in the relatively high price of the Excite Write (from $599.99; the penless Excite Pro is from $499.99) and we're not sure the value shows through.