Toshiba Dynabook UX reviewed: build good, specs mediocre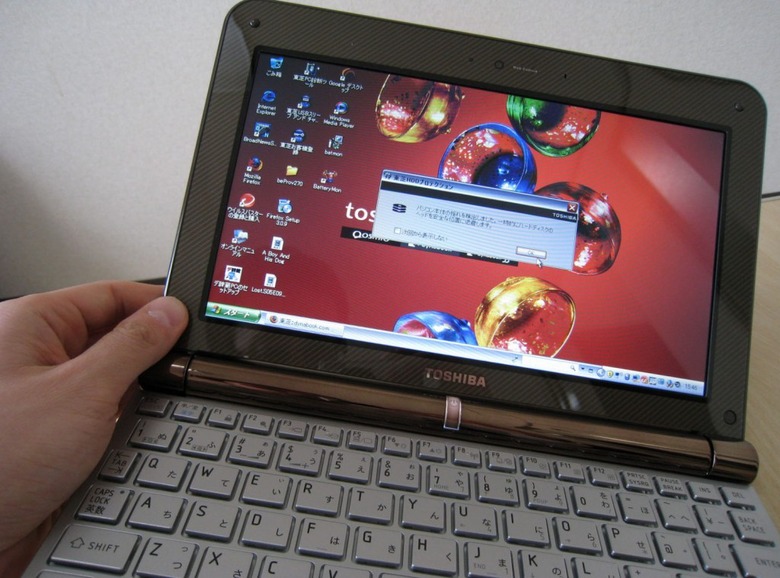 Given Toshiba's history of making clever, compact notebooks, big things are expected from their Dynabook UX netbook (aka the Toshiba NB200 in the UK).  Portable Monkey have gone hands-on with the 10.1-inch Atom N280 1.66GHz netbook, and come away reasonably impressed with build and battery life but disappointed by the specs.
Bizarre omissions – especially since they were reviewing what Toshiba refer to as the high-end version – include WiFi draft-n, Bluetooth and a 1.3-megapixel webcam; instead there's just WiFi b/g and a 0.3-megapixel camera.  Otherwise the specs read as normal for a netbook: 1GB of RAM, 160GB hard-drive and GMA950 graphics, plus two USB ports, VGA output, audio in/out and a 3-in-1 memory card reader.
The keyboard is reportedly excellent, though not as "satisfying" as the similarly-chiclet keys of the ASUS Eee PC 100HE, while the speakers don't crank up loud enough.  Screen performance is good, but the hinge won't angle back as far as many rival systems, which some users may find frustrating.  Battery life from the standard 3-cell pack was around 3.5-hours web surfing over WiFi, but the 6-cell battery is going to be an expensive upgrade (around $236).