Toshiba Mini NB200 netbook announced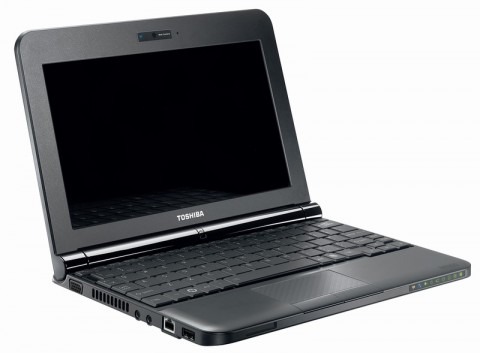 Toshiba UK have announced the Mini NB200, the European version of the Toshiba Dynabook UX 10.1-inch netbook revealed in Japan earlier this week.  As with the UX, the Toshiba Mini NB200 has a choice of 1.6GHz N270 or 1.66GHz N280 Intel Atom processors, paired with 945GSE graphics and up to nine hours runtime from the optional 9-cell battery.
Other specs include WiFi b/g, optional integrated 3G mobile broadband and standard Bluetooth.  There's also a VGA webcam and three USB 2.0 ports, one of which includes Toshiba's Sleep-and-Charge system whereby peripherals can be recharged even when the Mini NB200 is switched off.  Screen resolution is 1024 x 600.
As standard the Mini NB200 comes with a 3-cell battery good for up to four hours runtime; there's also a 3D accelerometer that's used to lock down the 160GB hard-drive if the netbook believes it's been dropped.  The Toshiba Mini NB200 will be available in the UK from May 2009, priced from £319 ($465). 

Press Release:
The new Toshiba Mini NB200 notebook – the stylish, personal mobile companion

All new contemporary design features tiled keyboard and extra long battery life

London, UK, 22 April 2009 – Toshiba Computer Systems today

announced a new addition to its mini-notebook range with the launch

of the new Mini NB200 – a portable, highly stylish 10.1" laptop

perfectly designed to fit the modern digital lifestyle.

The Mini NB200 is the perfect device for consumers looking for a

stylish and reliable PC. A selection of models are available, with

consumers able to take their pick from a 1.6GHz Intel® Atom®

Processor N270, or the new, more powerful Intel® N280 Atom®

Processor, offering a clock speed of 1.66GHz. Both models also

feature the Intel® 945GSE graphics chipset, and offer more than

enough power for browsing the internet, emailing, running basic PC

applications and enjoying digital media – currently the four most

popular uses for mini notebooks.

A Truly Modern Design

With Microsoft Windows XP Home Edition as standard, the Mini

NB200 offers a new ultra thin platform with a striking new design,

with a unique textured cover to appeal to the most style-conscious of

consumers. The new, near full-size keyboard on the Mini NB200 is

available with a new 'tiled' layout to offer cleaner look and feel.

A total of four colour options will also be available, in shades of

brown, black, white and pink1 guaranteeing a design to suit any taste.

The Mini NB200 comes with a 10.1" widescreen TruBrite LED

backlight display (1024x600) providing richer colours and clearer

definition – perfect for browsing the internet. A standard three cell

Pink edition available from Q3 2009

battery offers life of up to four hours, while an upgraded nine cell

variation delivers up to nine hours life from a single charge –

providing maximum working flexibility when operating away from the

mains.

HDD protection

Integrated Hard Disk Drive (HDD) storage of 160GB ensures that

users have extensive storage space available for multimedia content

and personal documents. While the highly portable nature of mini-

notebooks exposes them to the knocks and bumps that are an

inevitable feature of life on the move, the Mini NB200 features a 3D-

accelerometer monitoring system that detects freefalls, shocks and

vibrations and protects the integrated HDD to secure against the loss

of any personal data.

An integrated 0.3MP webcam provides a portable option for online

video and teleconferencing, while connectivity including Bluetooth

and Wi-Fi (802.11 b/g) allows users to easily connect to the internet

on the move. Three integrated USB 2.0 slots are also included,

providing the ability to plug into any number of external peripherals.

One of the three USB ports also features Toshiba's innovative Sleep-

and-Charge technology, allowing users to charge mobile phones and

personal media players, even when the mini NB200 is turned off.

As a responsible global corporate citizen, Toshiba ensures that all

laptops are RoHS-compliant, effectively reducing the environmental

impact by restricting the use of lead, mercury and certain other

hazardous substances. The new Toshiba mini NB200 is ENERGY

STAR® 5.0 ready2.

The Mini NB200 is available from May 2009, with prices starting from

£319.