Toshiba AC100 Review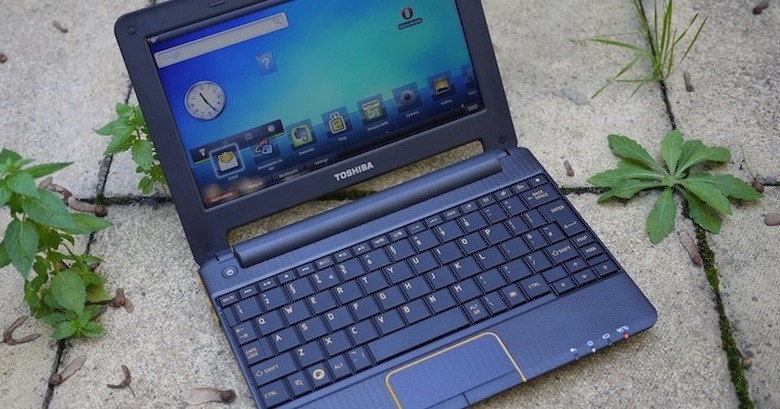 Companion devices come in all shapes and sizes, from big-screen smartphones through tablets to netbooks and ultraportables, but Toshiba is hoping that by borrowing a little of each they'll find a gap in the market. The Toshiba AC100 looks like a netbook but runs Android, an OS we're more familiar with on smartphones or, more recently, tablets. The company reckons a traditional keyboard and NVIDIA's Tegra 2 processor should make the AC100 the best multimedia, browsing and communication ultraportable around, but is Android being asked to do more than it's currently capable of? Check out the full SlashGear review after the cut.
The production AC100 has certainly been tightened up from the flexing, creaking prototypes Toshiba showed at the ultraportable's launch. Although you can still see some chassis-bend if you hold the notebook by the very corner with the screen open, there's no bowing of the keyboard tray as you type and the keys themselves are firm and nicely clicky. We've used plenty of ultraportables over the years, but the AC100's slender construction was still enough to impress coming out of the box; significantly tapered edges and a mere 0.87kg weight make for an impressively portable machine.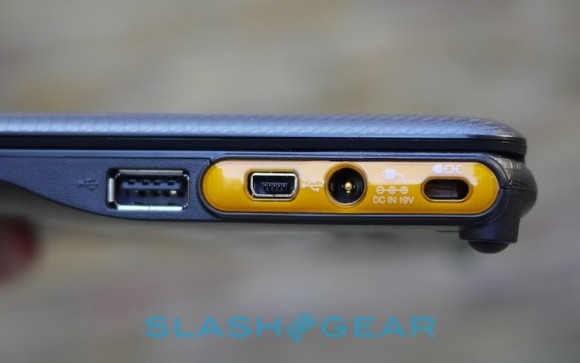 That's in part because you get fewer ports than on a regular netbook. The AC100 has a single full-sized USB 2.0, a mini USB, an HDMI output, a combination headphones/microphone socket and an SDHC card reader, along with the power input and Kensington lock port. There's also an integrated microphone, 1.3-megapixel webcam, and stereo speakers whose grills are on the underside of the Toshiba. Conspicuously absent is any sort of cooling vent; that's because the AC100 is fanless and, since it uses flash storage not a spinning hard-drive, silent in operation.
In fact, internal storage is just 8GB, paired with 512MB of DDR2 memory. Rather than the Atom CPU you'd usually find in a netbook, Toshiba has opted for NVIDIA's second-generation Tegra 250, a 1GHz mobile processor based around ARM not x86 cores. The promise is that the frugal Tegra 2 will deliver far longer battery life while still being capable of 1080p HD video playback (via the HDMI output, since the 10.1-inch display 16:9 runs at 1024 x 600). Wireless connectivity, meanwhile, consists of WiFi b/g/n and Bluetooth 2.1+EDR on this AC100-10Z model; Toshiba also offer the AC100-10U with an HSPA modem.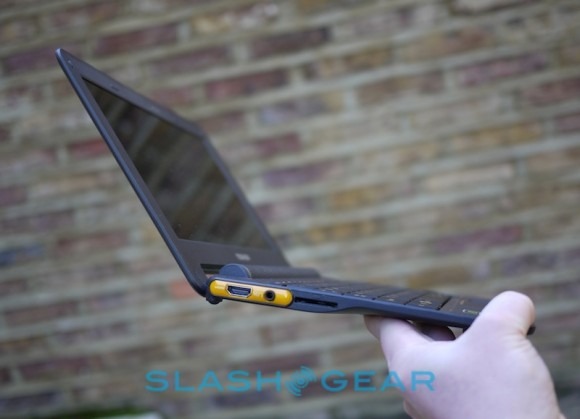 Running on that Tegra 2 is Google's Android OS, in this case version 2.1 Eclair with Toshiba's own Home Menu modifications. Android is, obviously, intended first and foremost for smartphones, and in the absence of a touchscreen (unlike the HP Compaq Airlife 100) Toshiba has thrown shortcuts galore at the AC100's keyboard. Where normally you'd find the function key row, the AC100 has buttons for media playback, internal/external display control, screen brightness, wireless, locking the trackpad, volume up/down/mute, taking screenshots, and loading the email, browser, settings or task switcher.
Meanwhile, there are also buttons for search and home, down where you might usually find the Windows Start key, and a menu button where the right-click shortcut normally is on PC notebooks. Then there's the trackpad, for which Toshiba have added an on-screen cursor control so you can navigate Android much as you would Windows. Five horizontal homescreen panes can have various widgets, and there's the usual status bar running across the top of the screen with WiFi, clock, battery and network indicators (the latter only showing a connection if you have the 3G-enabled model).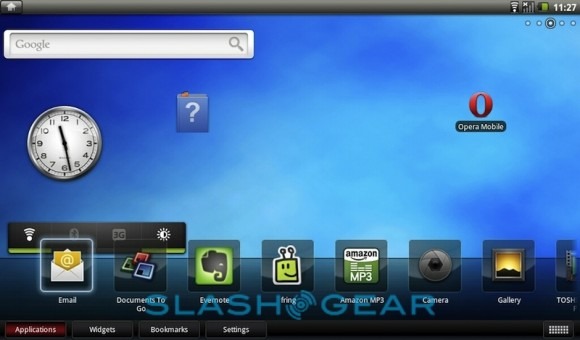 As for Toshiba Home Menu, that consists of four panels – Applications, Widgets, Bookmarks and Settings – which basically put the various apps and other shortcuts within a click or two from the homescreen. Toshiba preload the Opera Mobile browser, Evernote, Fring, Amazon MP3, a File Manager app, FBReader for ebooks, and the Camangi Market (there's no Android Market access) together with their own media player app and Documents To Go, but you don't get the Gmail app, only the generic Android Mail app.
Unfortunately, while it's a good attempt to translate a touch-based OS to keyboard and mouse use, it's not 100-percent there. Five homescreen panes filled with widgets make sense when you can swiftly flick between them with a finger; it's less intuitive when you're working with a 10-inch non-touch display. You might assume that the arrow keys would shift you from pane to pane, but they actually control the various Home Menu options. Regular text shortcuts, such as tabbing between fields or CTRL+arrow to jump by word, don't work.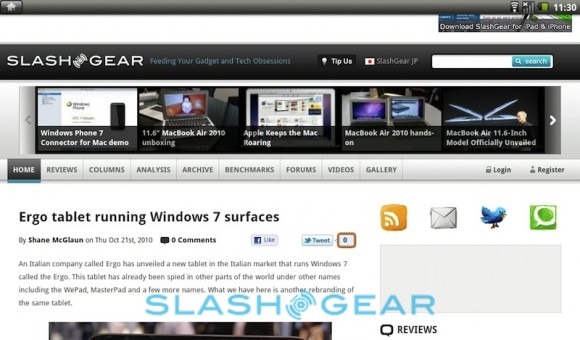 Gmail loaded with its full desktop view in the Android browser, but the keyboard wasn't fully functional: hitting Enter, for instance, to start a new paragraph instead opened up the address bar. Some on-screen dialogs can be navigated via the arrow keys and enter, some cannot; there's more jumping between the keys and the trackpad than on a Windows or OS X machine. Even Toshiba's own apps – added to take advantage of the netbook form-factor – are hobbled by Android's finger-centric paradigm; you can't drag files between local and USB storage in the Toshiba File Manager, for instance, instead having to individually select them, cut/copy them and then paste them into the other volume.
It adds up to a frustrating user experience that's ironically far more complex to get to grips with than a regular Android smartphone. Toshiba could have fitted a touchscreen – adding to the price, naturally – but even then we'd want to be able to successfully navigate solely via the keyboard, as even the most basic netbook can manage. There's no multitouch support on the trackpad, either.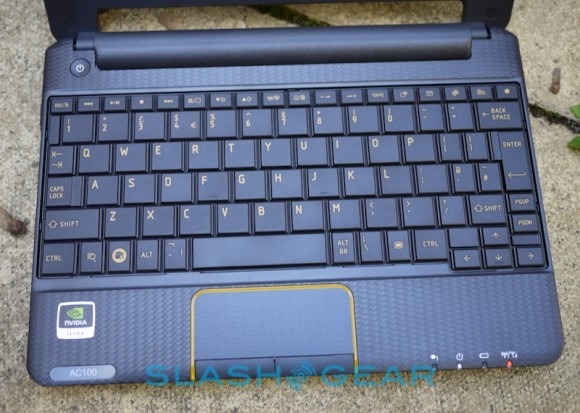 A glimmer of hope, however, lies with Ubuntu. The AC100 modding community kicked off efforts to load the alternative Linux OS onto the ultraportable, and in response Toshiba has assigned a small team of its own to explore the possibility. There's no timescale for its release, but from the early DIY attempts we've seen it could give the AC100 a real boost in usability. Ubuntu would hopefully be able to handle more USB peripherals than the AC100, too; the Android notebook could recognize a 2GB USB memory stick, but not an external NTFS hard-drive. Plugging it into another PC via the miniUSB port allowed the AC100 to be mounted as a browsable drive, meanwhile.
If Toshiba can manage to squeeze Ubuntu into the AC100 and preserve its battery life, it could be onto a winner. The company estimates up to 8hrs of runtime from a full charge, or 180hrs – over a week – of standby. In practice, we managed around six hours of solid web browsing over WiFi, and even longer if we were just watching video. The Tegra 2's 1080p abilities also live up to NVIDIA's promises, as long as you have a file format which Android can play; that means yes to H.264, MP4, AVI and XviD, but no MKV. Still, given the mere 8GB of internal storage, you won't be able to keep many files on the AC100 itself; thankfully it'll recognize up to 32GB SDHC cards.
At a time when Android's suitability for tablets is being questioned – even, when it comes to 2.2 Froyo, by Google itself – the platform seems even more ill-equipped to handle the AC100's form-factor. Tegra's HD video abilities are great, and the battery life and portability of the Toshiba are both excellent, but general use can be a chore that belies its companion-device intentions; the missing Android Market only compounds that. Ubuntu may change things, but for the moment the Toshiba AC100, despite its relatively affordable £211 (plus VAT; $333) price tag, falls short of earning a place in our bag.