TiVo deny Amazon HD imminent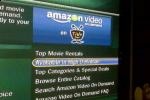 After a non-functioning HD option appeared on Amazon's On Demand video service for TiVo subscribers, the obvious assumption was that the content provider was planning an imminent launch.  Things, however, may not be so clear cut.  In a statement made to SlashGear, TiVo are now denying any such launch is planned.
"The Amazon HD link pulled in screengrabs has already (or soon will be) removed.  TiVo is continually testing different screen presentations and options for subscribers, but at this time we have nothing to announce, and don't expect to making an announcement on this subject in the near future" TiVo spokesperson
According to the DVR company, the "Available in High Definition" option is simply part of a test the company carried out, and not a sign that HD streams are soon to be available.  While we've been unable to confirm this at time of writing, the menu item itself should already have been removed.
A skeptic might suggest that TiVo are backtracking in order to keep a launch date under control, however our contact assures us that there really is no intention of announcing an Amazon high-def service.  It looks like TiVo Amazon subscribers may have to wait a little longer for their HD fix.