Tim Cook's Android selfie snapper gives Twitter a laugh on iPhone 11 release day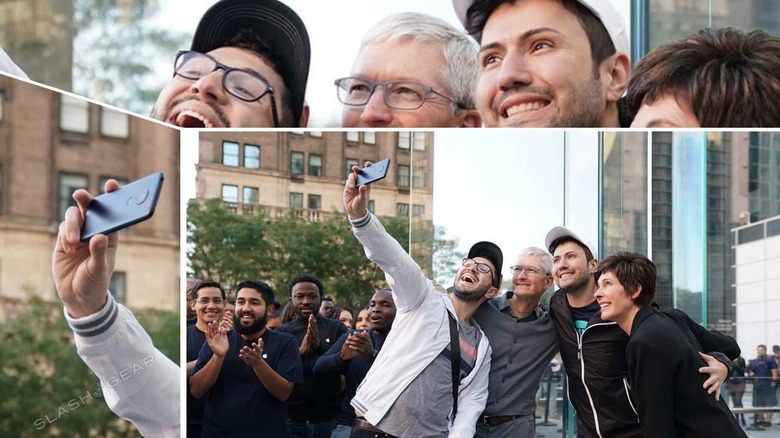 Today Apple took what might've been a sort of PR flub into an opportunity to sell another iPhone. Today is the release date for iPhone 11, iPhone 11 Pro, and iPhone 11 Pro Max, so CEO Tim Cook and retail chief Deirdre O'Brien headed to the most extravagant Apple Store in the world. That's the newly-remodeled Manhattan Fifth Avenue Store, where a crowd did, indeed, gather for the event.
"The cube is back," said Apple CEO Tim Cook in a Twitter post today. "Our Fifth Avenue store has always been a special place for Apple and visitors from around the world. We [heart emoji] NY!" Amongst the photos of his visit posted by Cook was a 3rd-person view of a selfie, the main subject of which was taking said selfie with an Android smartphone.
The fact that the man did not use an iPhone to capture a photo of Tim Cook at an iPhone event almost instantly became the primary subject of responses to the post on Twitter. Most responses – for hours on end – were more or less shocked at the audacity of the man snapping the photo.
After a while, Apple's Vice President of Worldwide Marketing Philip Schiller replied, saying "We love switchers!" And scene. One must assume that the selfie-snapping man went on to purchase an iPhone 11 – but we'll go ahead and respect his privacy at this point because his impact has already been felt!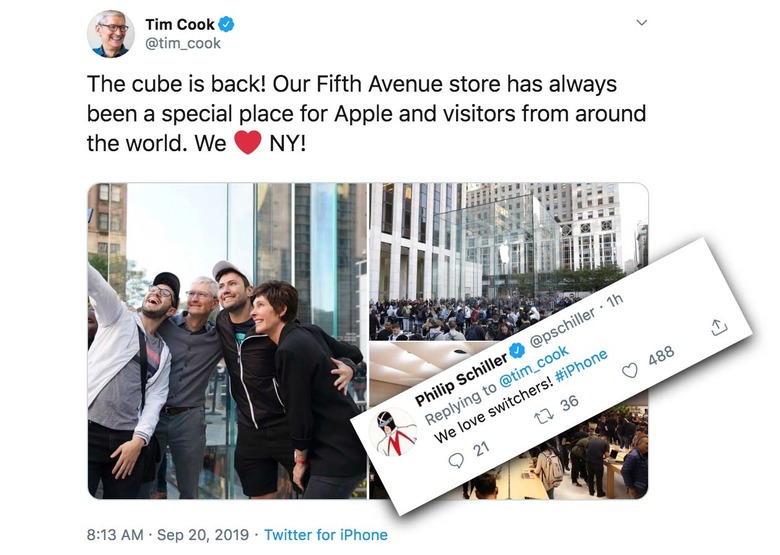 The iPhone 11 and Apple Watch Series 5 were both released in both the United States and Canada today. Pre-order customers in both countries also began receiving shipment of their devices in the mail today, while the in-store release began at 8AM local time (wherever each Apple Store may be) for walk-in purchases.
If you'd like to know more about the iPhone 11 or iPhone 11 Pro series, take a peek at our hands-on and first impressions with each of the three new devices. We've also got reviews coming up for the iPhone 11 series (regular and Pro) soon!