Three Logitech G mice get HERO 16K upgrades today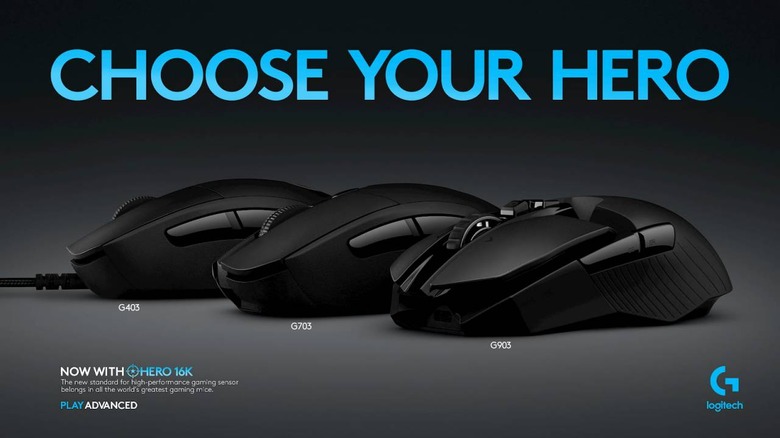 For a few years now, Logitech G has been releasing a series of high-end, wireless gaming mice that usually share three similarities: most of them use Powerplay charging, Lightspeed wireless tech, and almost all of them sport the company's HERO (High Efficiency Rated Optical) sensor. Powerplay and Lightspeed have mostly stayed unchanged from mouse to mouse, but last year, Logitech replaced the original HERO sensor with the HERO 16K.
That change came with the release of the Logitech G Pro wireless mouse, and now that the HERO 16K is the new standard sensor in Logitech G mice, the company is going back and upgrading some of its older products. Today, three mice are being upgraded to the HERO 16K sensor: The G903, the G703, and the wired G403.
While power efficiency has always been a main focus of Logitech's HERO sensor, one of the big draws for the HERO 16K specifically is its DPI range of 100 to 16,000. I reviewed the original G903 and G703 when they first launched as part of a larger Powerplay review, and found that both mice are fantastic PC gaming accessories.
Not only is Powerplay a useful system to have on your desk – it wirelessly charges your mouse so you never need to plug it in to top off the battery – but both mice feel good in the hand and perform really well. The G903 has the added benefit of being an ambidextrous mouse, so you can use it regardless of which hand is your dominant one.
The only drawback to both is that they're on the expensive end of the spectrum, especially if you're looking to buy a Powerplay mat to go along with them. For those who don't want to spend quite so much on all of this fancy wireless tech, there's the G403, which is a wired mouse that still leverages HERO 16K and comes with the same RGB and Logitech G Hub support we see in the G903 and the G703.
All three mice are available today from Logitech G's website. The G903 is the most expensive mouse of the bunch, coming in at $149.99, while the G703 is a little less expensive at $99.99. The G403 rounds out pricing at $69.99, so if you don't mind using a wired mouse, that may not be a bad buy. Check out the timeline below for some of our more recent Logitech G mouse reviews.