Three big lessons the 2020 Corvette C8 must learn from 2019's Stingray Z51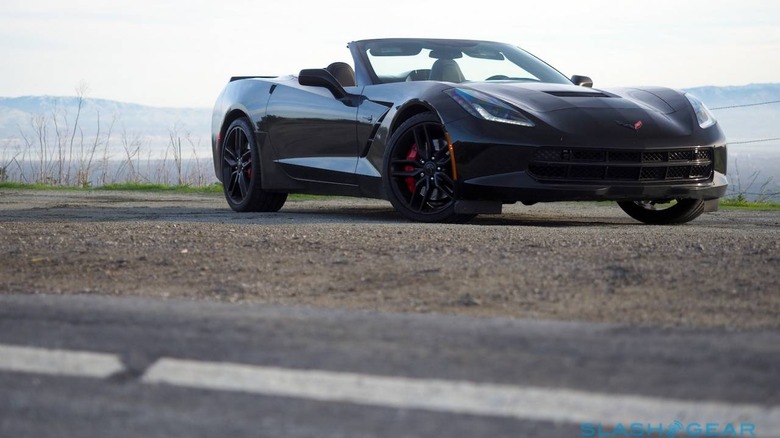 The mid-engined 2020 Corvette C8 is almost here, but there's more to Chevrolet's long-lasting sports car than just the location of its engine. When you're rebooting a bonafide icon there's a whole lot of history to take into account. That's why I spent some time in the 2019 Corvette Stingray Z51 to see where Chevy should go next – and what the 2020 Corvette C8 should avoid.
Seven generations of car has given Chevrolet a pretty solid basis for each successive Corvette. And, while there's no shortage of supercharged madness at the high-end of the range, like the faintly-ridiculous 2019 Corvette ZR1, it's more attainable fare that really sets the car apart.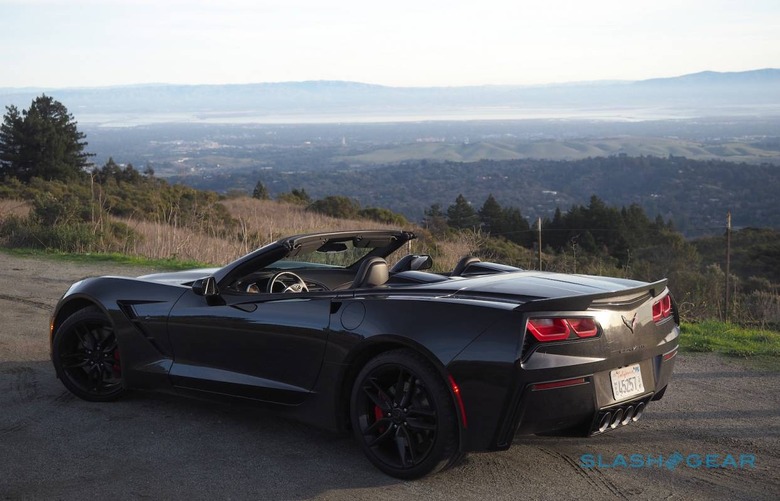 This particular Corvette Stingray Convertible came with the Z51 Performance Package and the 2LT Package. With the $1,725 8-speed auto transmission and a couple of other extras, along with $1,095 destination, it clocked in at $74,855. Do without most of the extras, and settle for the standard 7-speed manual, and sticker price kicks off from $64,495.
That's more than aggressive, for a 6.2-liter V8 engine with 460 horsepower, 460 lb-ft of torque, and a 0-60 mph time of 3.7 seconds. Figures like that pit the Corvette against rivals like Porsche's 911 and Jaguar's F-Type R, but Chevy undercuts them by not just thousands but tens of thousands of dollars.
The 2020 Corvette needs to be attainable
Bang for buck, American muscle cars have always been about getting maximum performance for your money. Chevrolet can't afford to sacrifice that for the 2010 Corvette C8. While a switch to a new European-style mid-engined layout will introduce interesting new wildcards around things like balance, driving dynamics, and styling, it can't afford to completely break ties with the old.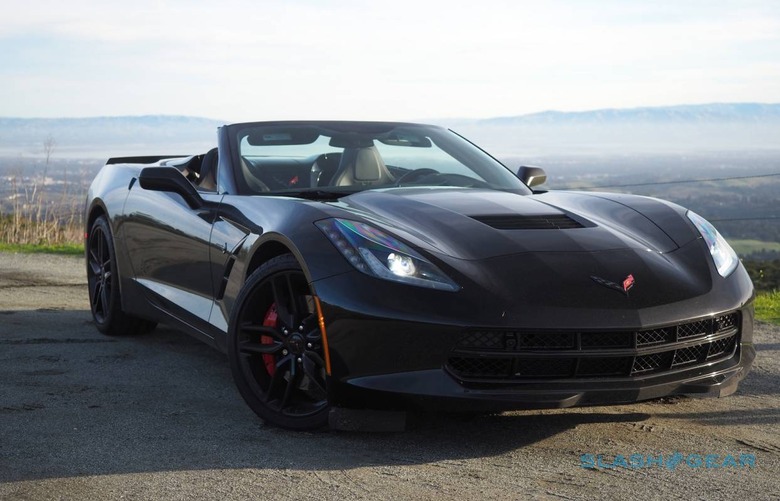 For a start, while the Corvette may undercut its Porsche, Jaguar, and Mercedes-Benz rivals on paper, that doesn't take into account perceived value. There's no denying that the Chevrolet just doesn't have the brand cachet to compete directly with its more prestigious rivals. Whether that comes back to haunt the new Corvette depends on how much Chevy has been drinking its own Kool-Aid.
The 2019 Corvette Stingray Z51 is excellent value, and it performs well. Indeed, it holds up nicely regardless of the badge on the nose, particularly when you have the Z51's electronic limited slip differential, though you should almost certainly pay the $1,795 for the Magnetic Selective Ride Control which leaves the car far more agile and makes pushing it more predictable.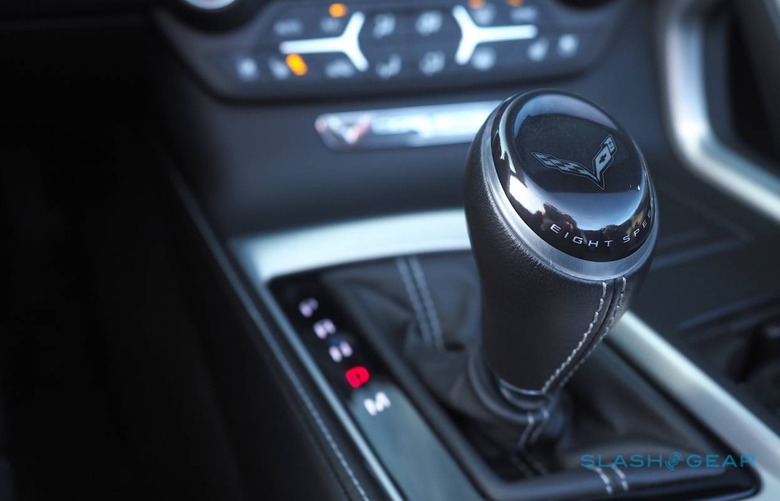 Pushing the boat out with the options, though, narrows the gap between the Corvette and its alternatives, and that's a huge risk. Even with its engine in the middle, I'm not sure the 2020 car will have enough prestige beyond its core audience of enthusiasts and fans to snipe sales from the competition. Attainability has to be a core component of the Corvette C8's DNA.
The 2020 Corvette has to acknowledge expectations have changed
"Attainable" doesn't mean "cheap," however. One of my biggest issues with the 2019 Corvette isn't its performance, or even its faintly priapic style, but how special you feel in the cabin. Or, more accurately, how special you don't feel.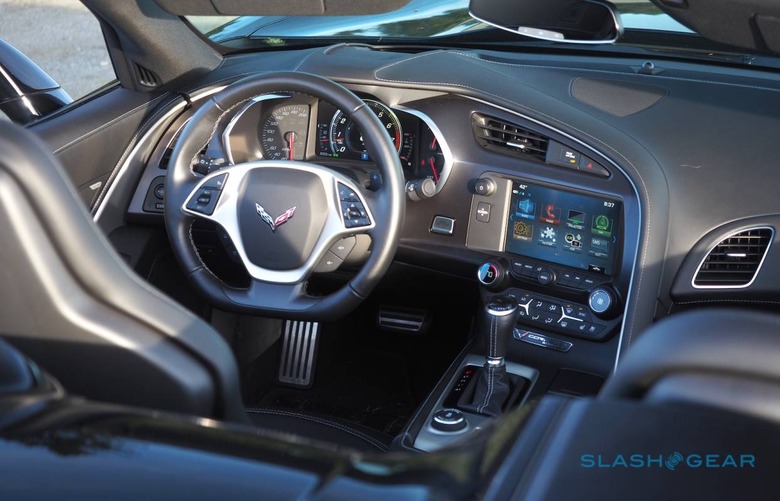 I'm talking about touch-points just as much as I am about design. Let's face it, the 2019 Corvette Stingray's dashboard hardly looks fresh and modern. Slabs of black and silver plastic, along with button clusters that look like they've been dredged from Chevy's communal parts bucket, scream both "basic" and "budget" in a way that sports car buyers don't really like to hear.
I'm not saying that the 2020 Corvette C8 needs elaborate design inside. What it absolutely does need Chevrolet to focus on, though, is how special each of the parts you most commonly interact with leave you feeling.
That's the steering wheel, sure, and the gear shifter. The 2019 'Vette has a pretty nice starter button, and the thick-rimmed wheel is nice (even if the two-tone hub and its switchgear are underwhelming). Chevrolet drops serious premium points on things like the paddle shifters, though, which feel like cheap plastic, and the drive mode knob, which has the tactile reward of an oven thermostat.
There are inklings that Chevy has got that message. We've seen the 2020 car's steering wheel, for example, and while the slope-shouldered spokes are undoubtedly going to be controversial, what appear to be metal paddles are a welcome improvement over the 2019 model. Here's hoping the rest of the cabin lives up to modern expectations.
Whatever the speed, the 2020 Corvette C8 can't feel fuddy-duddy
I confess, from behind the wheel of the 2019 Corvette Stingray I did wonder whether people were looking at me and thinking I was having a midlife crisis. There's no denying that, despite its origins, successive generations of 'Vette have gained a reputation as being the car of choice of a gentleman of a certain age, looking to reclaim some sense of lost youth. You could make a good argument that they're the sensible ones, given how aggressively Chevy prices the car and what you get in performance for your money, but it's a small audience and the 2020 Corvette C8 needs to appeal more broadly.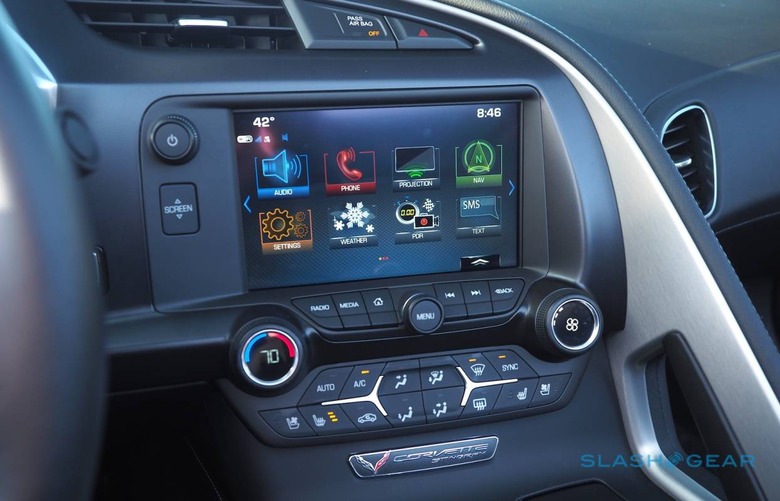 A sizable chunk of that will be down to the technology. The 2019 car doesn't just look plain inside, it's lacking some of the gadgetry that's fast becoming table-stakes if you want to be taken seriously by younger drivers. There's no adaptive cruise control and no lane-keeping assistance. Chevy's mirrors don't warn you of cars in your blind-spot.
Then there's the infotainment. The 2019 Corvette Stingray's MyLink system does at least have Apple CarPlay and Android Auto support, but it's graphically dreary compared to Chevy's newer systems, not to mention slow and confusingly laid-out. The only drama is that the 8-inch touchscreen can drop down to reveal a hidden storage nook: you don't get the color-changing LED mood lighting, app connectivity, wireless charging, or other gadgetry that modern rivals boast of.
Keep what works, capitalize on what's new
Is the 2019 Corvette Stingray Z51 a bad car? Certainly not: if performance and price are your top considerations, it's hard to argue with their combination here in Chevy's outgoing car. What holds it back is age – a sense either real or perceived. The awkward cabin, difficult blindspots, mundane tech and active safety systems, and that ineffable feeling that you gain a few decades just by sitting behind the wheel.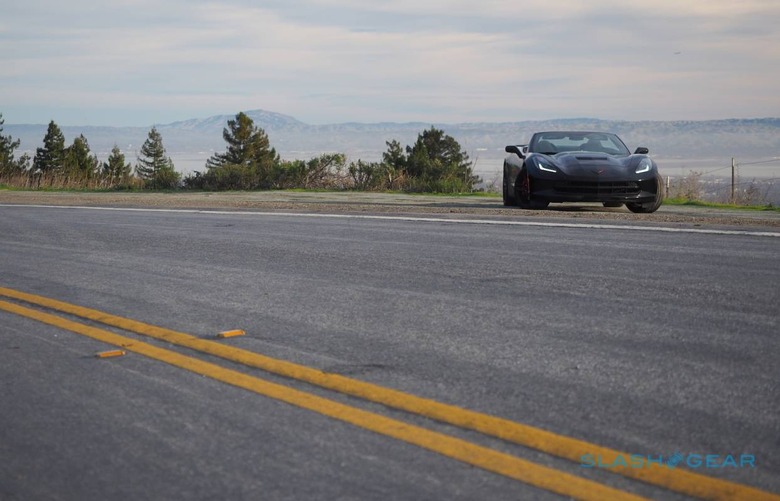 What it does is leave me quietly hopeful for the 2020 Corvette Stingray C8. None of what needs to change is beyond Chevrolet, if it's serious about making a true, modern-day sports car. We'll find out for sure tomorrow, July 18, when the brand new 'Vette is officially revealed.