The 2020 Corvette C8 steering wheel gives me unexpected hope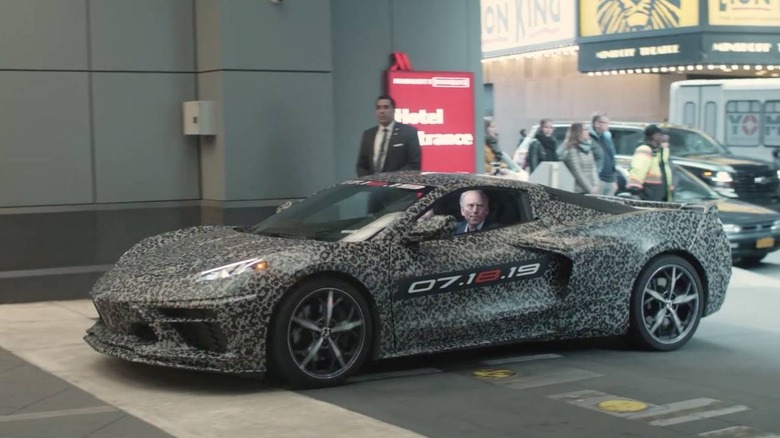 Chevrolet isn't ready to show us the 2020 Corvette C8, but the long-anticipated mid-engined sports car is giving us a glimpse of the most important part of the cabin. The automaker won't take the wraps off the next-generation Corvette until July 18, 2019, but Chevy has surreptitiously slipped out an image of the sports car's steering wheel in advance.
This isn't the first tease, of course. The mid-engined 2020 Corvette made its public debut in a short but splashy drive through New York City back in April, camouflage wrapped but still striking.
Only the briefest glimpses into the cabin were available, however, leaving us pretty much in the dark as to what the driver and passenger experience in the C8 might be like. It's fair to say that one of the lingering issues with the current-generation Corvette C7 is that its cabin lacks some drama. Judging by the wheel from the C8, that won't necessarily be a problem for this new car.
For a start, it's not actually a circle. Flat-bottomed steering wheels have been fashionable in performance vehicles for some time, though the justifications – beyond aesthetics – vary. Some argue that they allow for better knee clearance, or give your hands a more tactile sense of the wheel's position when rotated.
The mid-engined Corvette's wheel, though, takes the squared-circle idea to even greater heights. It has a flattened top section too, complete with a 12 o'clock marker. Two aggressively-sloping spokes are encrusted with controls, meanwhile.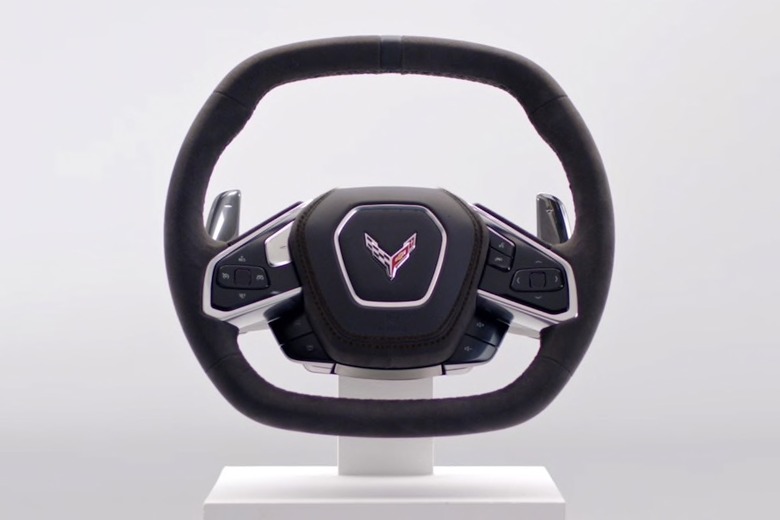 On the left, there are the cruise control buttons. The right gets a navigation pad for the infotainment system, along with triggers for the voice command system. Underneath the spokes are volume and other buttons.
If there's one thing I'm particularly pleased to see, it's that the paddle shifters are seemingly made of metal. All too often, in my experience, performance cars are left with underwhelming paddles: they're either too small, too plasticky, or both. In a world where the manual transmission is increasingly rare, having something tactile with a sense of drama, design, and ceremony is always a nice reminder that you're behind the wheel of something out of the ordinary.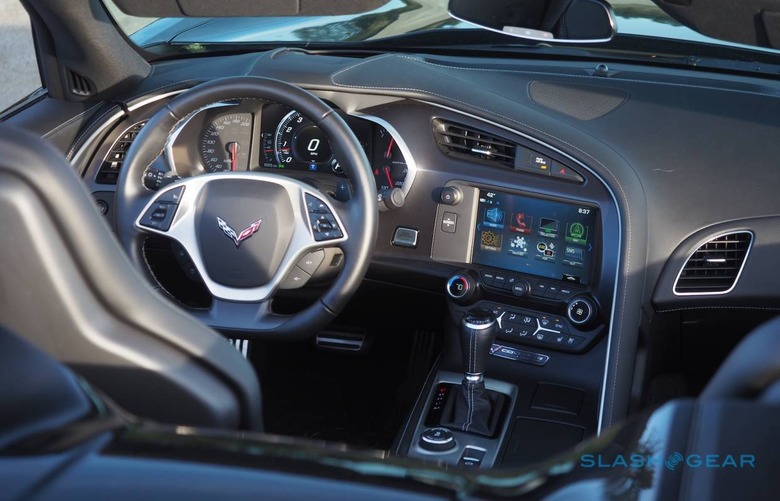 Indeed the 2019 Corvette Stingray C7 has distinctly underwhelming paddles and a fairly pedestrian wheel altogether. Its flappy-shifters are boring black plastic, and hardly do the car justice.
There's a lot more to a car than the steering wheel, of course, but it's worth noting just how important it is to get the common touch-points right. While the exterior design of the car may be instrumental in selling it, the parts the driver interacts with inside the cabin are responsible for maintaining the feeling of connection with the vehicle they bought. Get that wrong, and even the fastest vehicle can disappoint.