The 2019 Corvette ZR1 is a 755 HP all-American supercar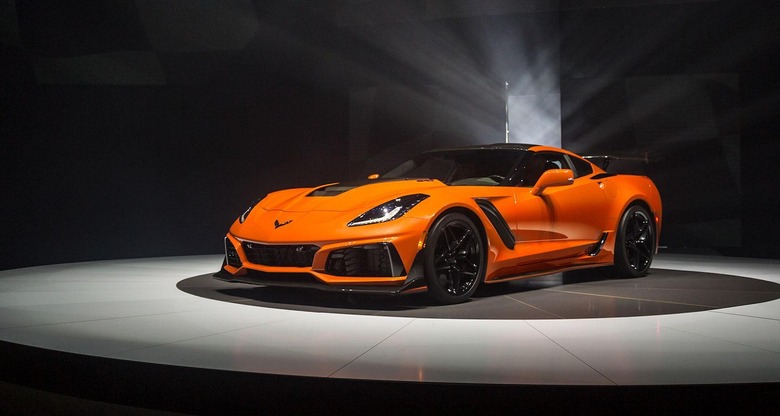 If you're going to go big, go very, very big: that's the recipe Chevrolet picked for the 2019 Corvette ZR1, and it's shaping up to be delicious. Billed as "the fastest, most powerful production Corvette ever," it's a 755 horsepower, 210+ miles per hour monster, not to mention a legitimate supercar with an American badge.
That's down to the new LT5 supercharged engine, exclusive to the ZR1. Measuring in at a hefty 6.2-liters, the V8 musters the highest output ever for a Chevy production vehicle, in no small part because its intercooler supercharger system now packs 52-percent more displacement than the supercharger on the old Z06 LT4 did. It's also Chevrolet's first employment of dual-fuel-injection, which combines primary direct injection with supplemental port injection.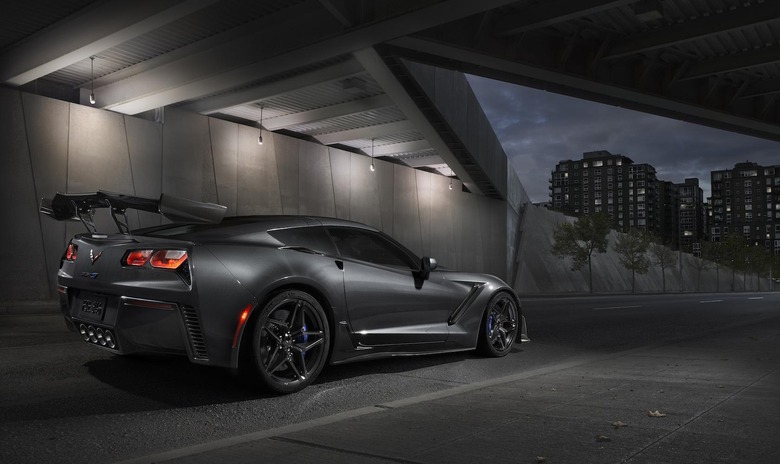 The result is not only that 755 HP but 715 lb-ft of torque. Maximum horsepower arrives at 6,300 rpm, while peak torque lands at 4,400 rpm. Chevrolet isn't talking 0-60 mph times yet, but we suspect they'll be very, very low.
The 2019 ZR1 will be offered with a choice of a 7-speed manual transmission with Active Rev Match, or an 8-speed paddle-shift automatic. Either way, you'll get short/long arm double-wishbone suspension at the front and the rear, with Magnetic Ride Control. The steering is variable-ratio rack-and-pinion, with electric assist.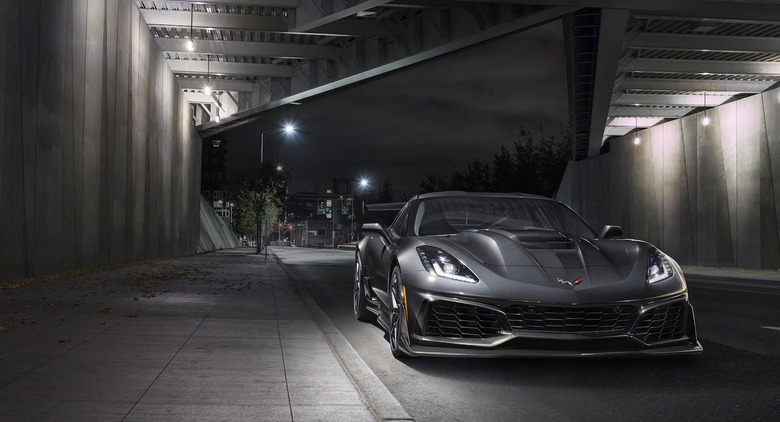 As you might suspect, keeping all that power – and, indeed, the Corvette ZR1 – on the road or track is going to be tricky. To do that, there are two aerodynamics packages which Chevrolet will offer. Standard will be the rear Low Wing, with 70-percent more downforce than the base aero package on the Z06 and the highest top speed.
However, there'll also be a High Wing option, with a two-way adjustable wing. That'll deliver the maximum downforce, with Chevy claiming around 60-percent more than the Z06 with its Z07 Performance Package. Either way, there's a downforce-enhancing front underwing, another first for the automaker.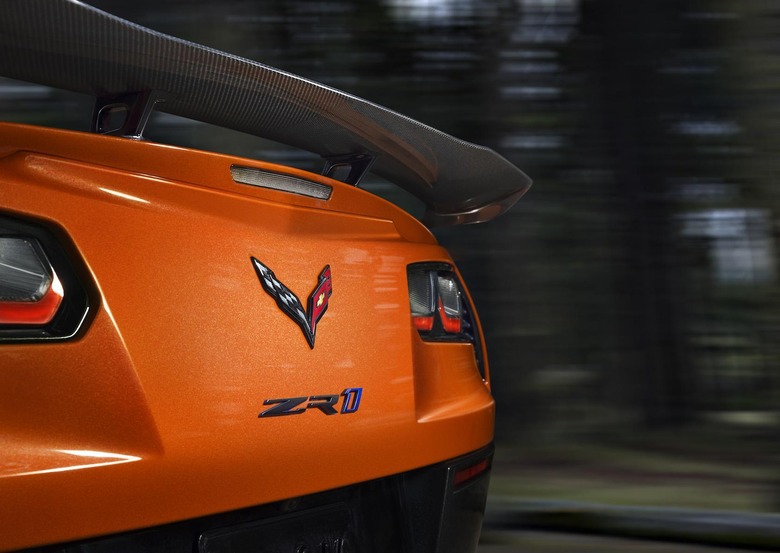 Go for the High Wing, and you also get the ZTK Performance Package. That throws in a front splitter with carbon-fiber end caps and specific tuning to the chassis and Magnetic Ride Control in the name of better grip during aggressive cornering. Stanchion-mounted wings are included on both variants, adding their own downforce, while a new fascia and four extra radiators boost cooling. Indeed, the ZR1 has a total of 13 heat-exchangers, not to mention a special carbon-fiber "halo" hood with a gap for the supercharger and intercooler assembly.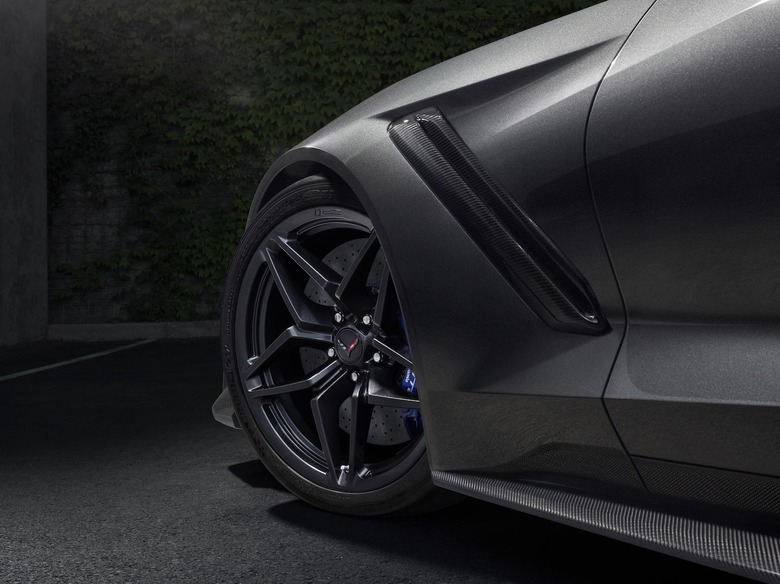 As for the wheels, they're 19- x 10.5-inches on the front, and 20- x 12-inches on the rear. The standard rubber will be Michelin Pilot Super Sport run-flats, though Michelin Pilot Sport Cup 2 versions will be included on the ZTK Performance Package. Either way, you get front and rear two-piece carbon ceramic matrix rotor brakes, with fixed six-piston aluminum calipers at the front, and fixed four-piston aluminum calipers at the back.
Despite all that power, Chevrolet claims that you can see 15 mpg in the city if you have the manual car, or 22 mpg on the highway. The automatic drops a little, to 13 mpg in the city and 23 mpg on the highway. Still, it's a little astonishing to get even double-digits out of a car like this.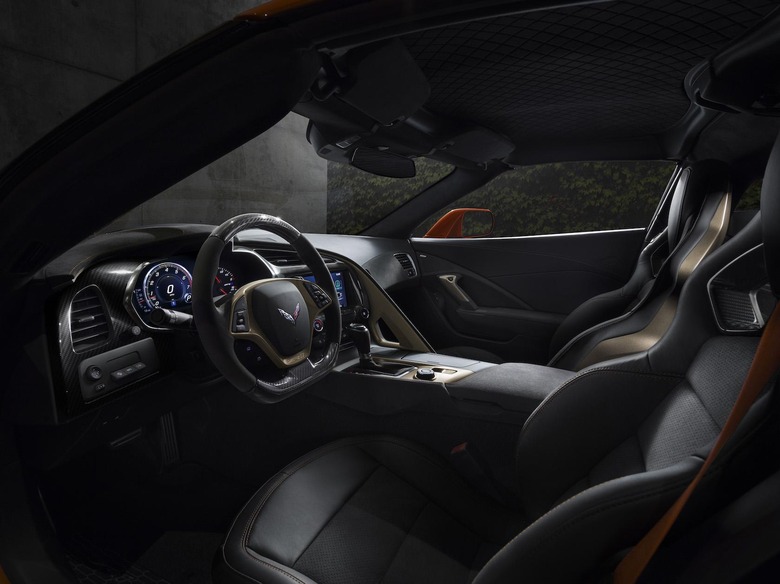 It's likely to turn heads. The Corvette ZR1 will be offered in a new Sebring Orange Design Package, with a special exterior color and matching orange brake calipers, orange rocker and splitter accent stripes, and, inside, matching seat belts and interior stitching. There'll also be special bronze aluminum interior trim.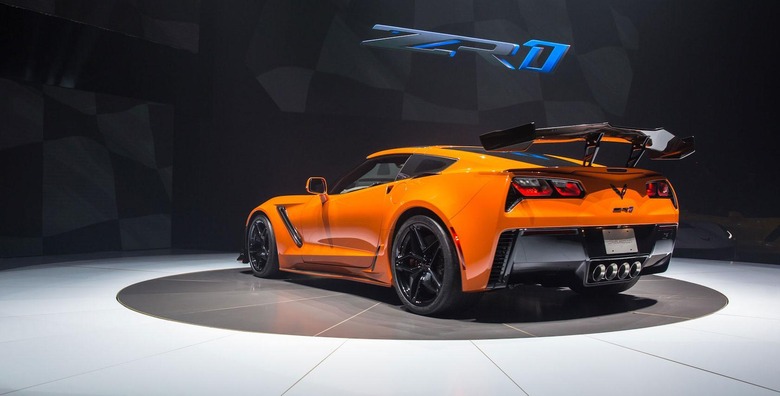 Whether or not you go for it, the cabin has standard leather seats with sueded microfiber inserts. Heated and vented Napa trimmed seats are options, as are competition sport seats. A carbon fiber rimmed wheel is another option, along with a Bose audio system and Chevy's Performance Data Recorder. That logs track metrics onto an SD card in the glove compartment, along with video from a front-facing camera built into the windshield.
All in all, it's an all-American muscle car that's been given a supercar upgrade. Chevrolet hasn't confirmed pricing at this stage, something we'll find out closer to the 2019 Corvette ZR1's release in Spring 2018.