This is VW's plan for semi-autonomous, smartphone-friendly driving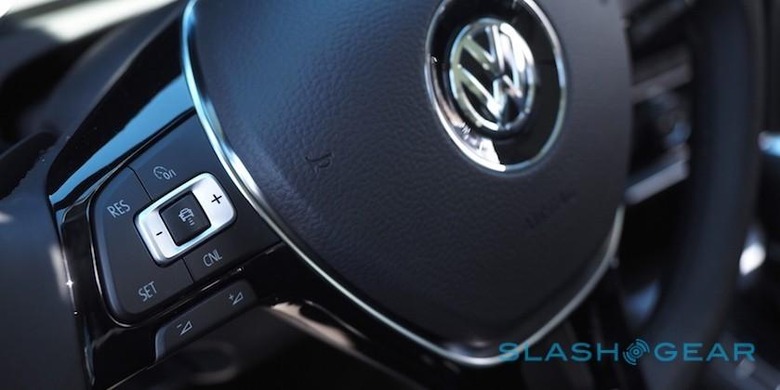 Volkswagen is embracing CarPlay and Android Auto, revamping its whole infotainment line-up while injecting some smart semi-autonomous tech to its 2016 cars. I spent some time with VW's new Driver Assist semi-autonomous features, along with the Discover Pro on the e-Golf SEL Premium, the top-spec MIB-II model in VW's new range. It's a noticeable improvement over the old infotainment platform, pairing a sizable 8-inch capacitive touchscreen with easily stabbed and grabbed shortcut buttons and knobs.
The interface is sober to the point of being obstinately gloomy, but it hides a fair amount of functionality. CarPlay and Android Auto are there, and operate just as you'd expect given each promises cross-platform consistency.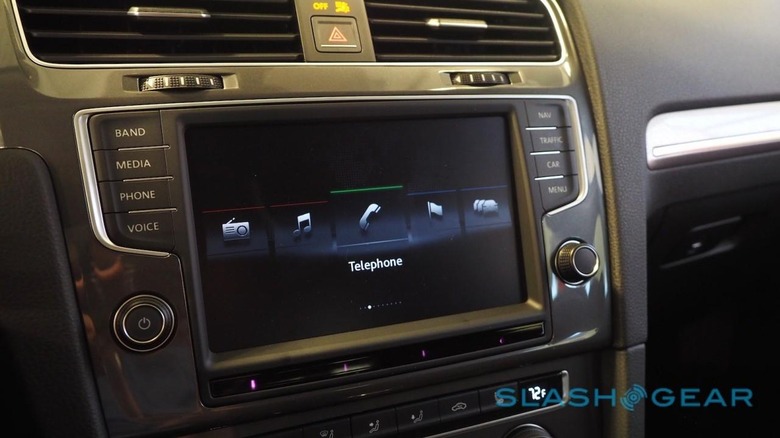 There's actually a third option, too, the far lesser-discussed MirrorLink. That's offered on a number of Android phones from Samsung, HTC, LG, and Sony; you can choose whether you want MirrorLink or Android Auto to load automatically in the Discover Pro's settings.
VW isn't quite ready to give up on physical media yet, though the Discover Pro does try to help you make the leap from CDs. There's a CD slot in the glove compartment, along with two SD card slots; the latter will allow you to copy digital music files to the 10GB of internal storage that VW calls the "Jukebox".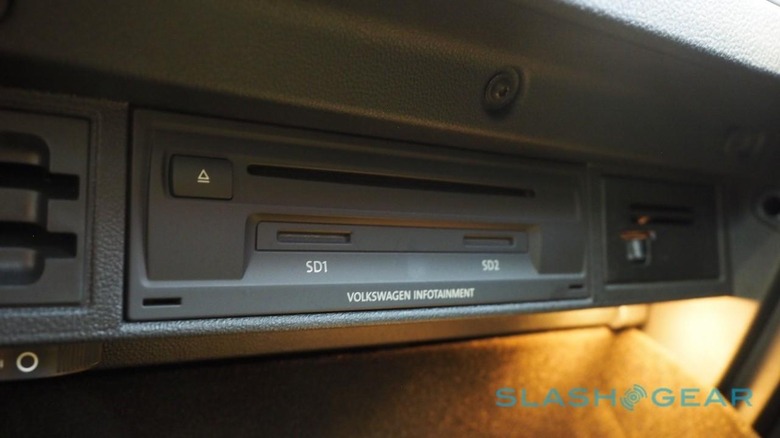 Unfortunately, you can't rip a CD directly, so you'll have to encode your files beforehand; the FLAC support on the Discover Pro assuages disappointment there, though uncompressed files are going to chew through your 10GB fairly rapidly. Nor can you copy files from the Jukebox back to an SD card, with the process being one-way only.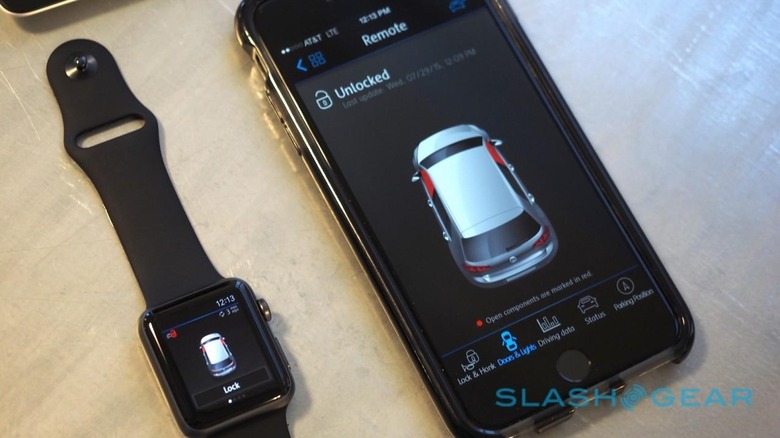 I also played with VW's Apple Watch app, which allows control from your wrist over things like the locks, climate control, and e-Golf charging. It's a mixed bag in terms of usability today, proving inconsistent in sending commands to the car; I suspect that's more down to Apple Watch's lacking support for native apps, and would expect it to improve once WatchOS 2.0 arrives and software can be installed right to the wearable.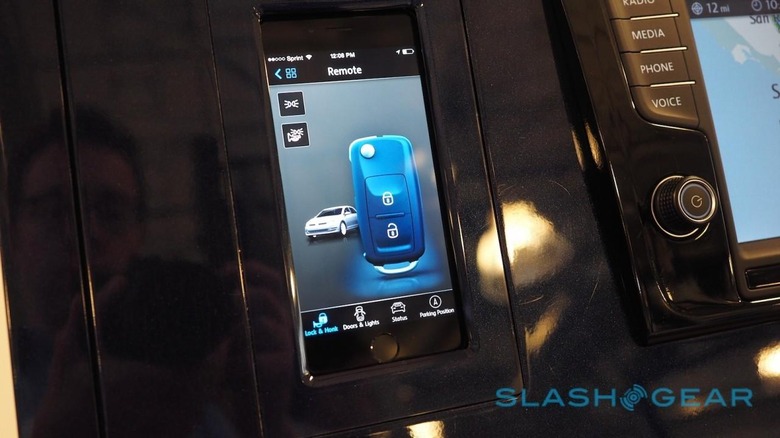 More useful, at this stage, are the smartphone apps for iOS and Android. I'm also looking forward to trying out the predictive navigation, a feature expected on the upcoming 2016 Passat, which promises to automatically make destination suggestions based on the routines you traditionally follow.
Volkswagen can't claim first-to-market status on its driving aids. While they've been available on the Touareg SUV for a while now, rival car companies have been quicker to trickle things like adaptive cruise control and semi-autonomous parking though their ranges.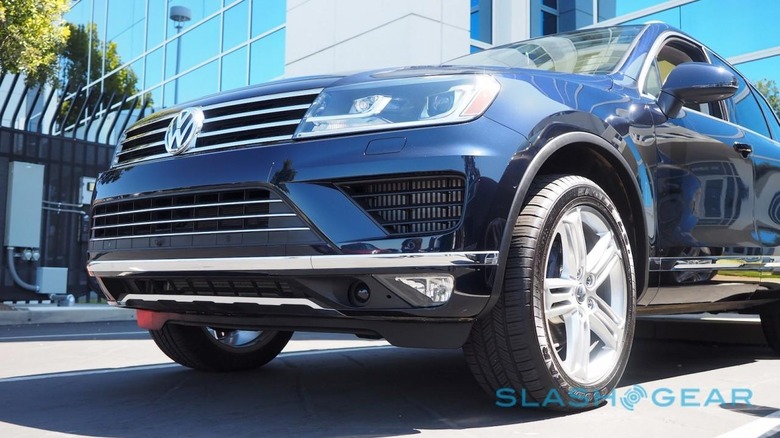 What today's announcement does do is catapult VW to among the front players in the pack. Not every driver aid will be offered on every car, of course; the Golf will get the most, with adaptive cruise control, forward collision warnings and emergency braking, blind spot monitoring with rear traffic alerts, lane departure warnings, park assist, and park distance control available as options on almost all variants.
In contrast, the Beetle will only be offered with blind spot monitoring as an option, and the Eos convertible won't have any of the new features at all.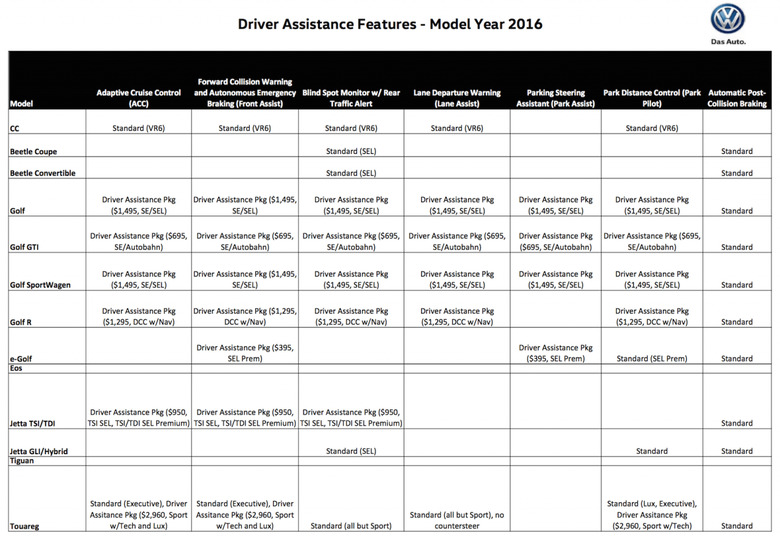 They're the handiwork of Volkswagen's Electronics Research Laboratory in Belmont, California. It's the same facility which developed Volkswagen's iPod adapter back in 2008, following that up with Google navigation and Google Streetview in later years, when smartphones were still in their infancy.
According to Ewald Goessmann, executive director of the ERL facility, the lab was founded "to bring the best of two worlds together. On the one hand you have the high-precision engineering of the car manufacturers, and on the other you have the start-up style, the Google style, of Silicon Valley."
Maybe the most popular project of recent years has been Volkswagen Group's work on autonomous and semi-autonomous driving. We've already taken the self-driving RS 7 race-cars for a spin, including going head-to-head with them on the track, but it's their sensors like radars and cameras which have been donated for the driving aids on the production models.
The adaptive cruise control, for instance, uses a new radar sensor either behind the VW badge or embedded in the bumpers, while lane assist uses a camera built into the windshield. Ultrasonic sensors on the sides of the car are used for parking assist, along with the latest electric power steering which allow cars like the 2016 Golf GTI to spot an empty space as you crawl past at under 25mph, and then autonomously reverse in.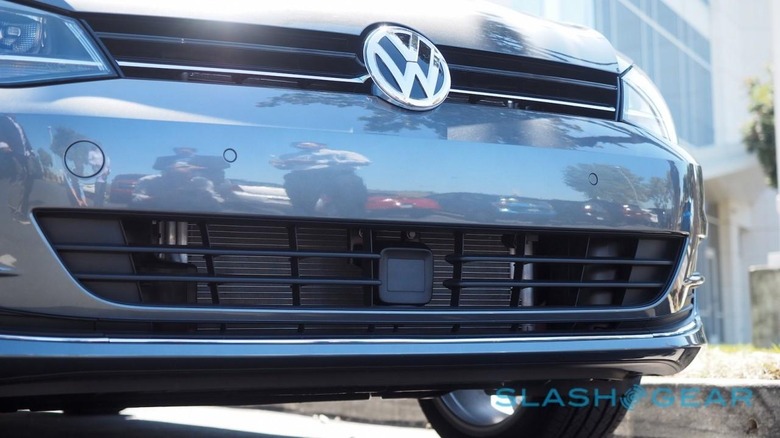 According to Goessmann, they're collectively a further step toward full-autonomy, though VW is conservative on when that might actually arrive in production vehicles. It's not just a case of allowing the car to drive itself, either, and VW is drilling down into areas like the human-machine interface and how drivers co-exist and instruct the digital chauffeurs in their their self-driving vehicles.
"The car has to understand the contextual environment in order to give the right information at the right time," Goessmann points out.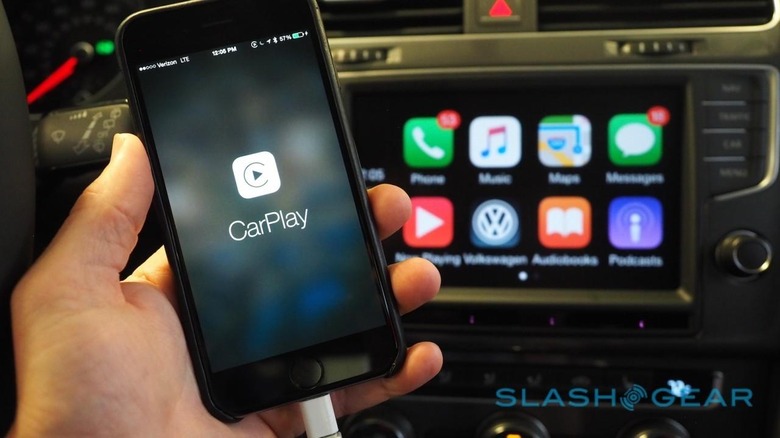 For the announcements today, it's a little disappointing that VW opted not to make CarPlay and Android Auto standard on the base-level infotainment system. That's the strategy adopted by Chevrolet, for instance, and it's likely to do more to drive the proliferation of both systems than offering them as a paid upgrade.
There's also no option to upgrade the entry-level Composition Color – which lacks CarPlay and Android Auto – though everything on SE trim and above gets at least the Composition Media unit with Apple and Google's systems. In fact, there are no upgrade options at all, barring ongoing Car-Net subscriptions for those who want smartphone connectivity through VW's own apps.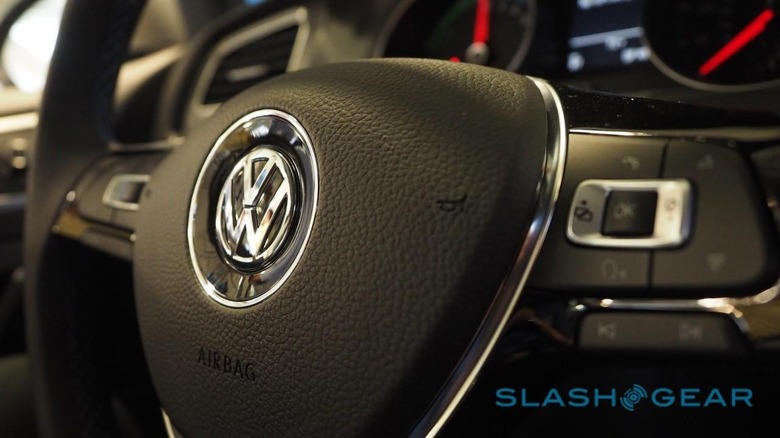 All the same, the fact that VW isn't dipping its toe, but jumping in headlong with so many models – ranging from its tiny city cars, through to SUVs and, almost certainly, the upcoming Passat refresh – is both admirable and exciting. We're still in the early days of CarPlay and Android Auto, and it'll take a proliferation of cars showing up in dealerships before drivers figure out what's on offer.
Volkswagens that drive themselves entirely are still some way off, but VW has finally closed an increasingly conspicuous gap between it and rivals. All of a sudden the drawbacks to that Golf GTI seem even less of an issue.