These VW Android Auto and CarPlay cars are in showrooms now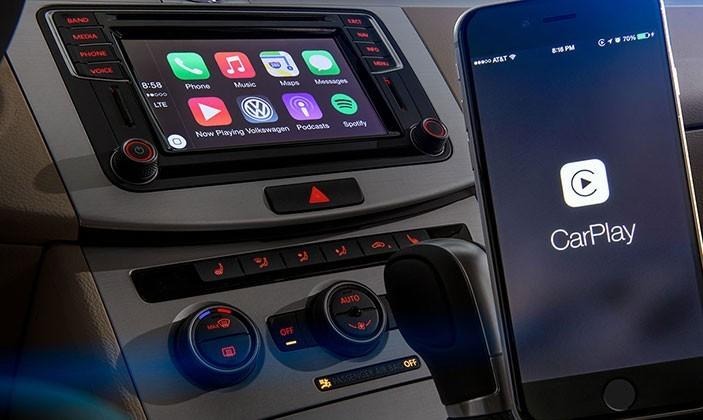 Volkswagen has launched its new Modular Infotainment Platform, MIB-II, with the first cars with the new touchscreen head-units arriving in dealerships complete with Android Auto and CarPlay. The new technology, announced at CES 2015, switches to a more modular approach, as well as baking in more apps and wearables. It's an ambitious roll-out, too, with VW planning to put MIB-II into all but a handful of its 2016 models.
The "Modular" part, VW says, is because no longer will there be model-specific head-units. Instead, there'll be a fixed range, all equipped with touchscreens, and with CarPlay and Android Auto on all but the entry-level.
VW will also have a suite of its own apps, part of a system its dubbed Car-Net, with the ability to remotely control locks and location check from a smartphone, automatic crash notification to direct emergency services to an incident, and alerts for when the car is driven faster than a predefined speed limit, or outside a certain area. The apps also have diagnostics for vehicle status.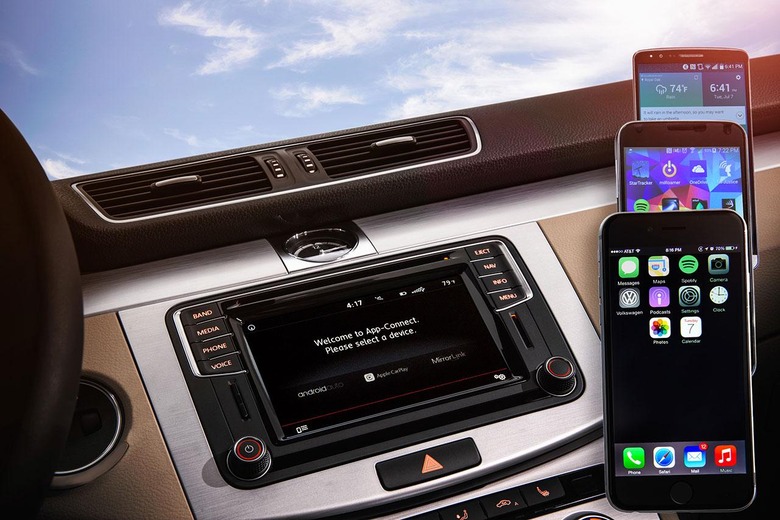 The apps will be available for both iPhone and Android. New cars will get six months of Car-Net, while subscriptions will be priced at $199 for a year, $378 for two years, or $540 for three years. Alternatively, there'll be a month-to-month package for $17.99.
Four different versions of the system will be offered, depending on the car and spec-level. As standard will be the Composition Color system, with a 5-inch 400 x 240 resistive touchscreen, aux-in, SD card, and USB support, along with Bluetooth and a a reversing camera as standard.
Next up comes the Composition Media unit, upgrading to an 800 x 480 capacitive touchscreen with proximity sensor – measuring either 6.3- or 6.5-inches – and adding SMS send/receive to the Bluetooth. Two phones can be synchronized simultaneously, and there are two SD card slots and JPEG photo gallery support. It also adds SiriusXM and HD Radio, along with FLAC lossless audio playback.
Third is the Discover Media unit, which throws in 2.5D navigation, one-shot voice destination entry – which doesn't need you to split the address into house number, street, and city – and destination prediction based on previous trips. It also adds more electric vehicle functionality, along with Car-Net Guide & Inform.

Finally, the 2016 e-GOLF SEL Premium gets Discover Pro, with an 8-inch capacitive touchscreen, one-shot point-of-interest entry, 3D navigation, 10GB of integrated storage for digital music, the ability to see electric car range on the map, a DVD drive, and drag-and-drop waypoint control.
App-Connect, meanwhile, is Volkswagen's umbrella branding for Apple CarPlay, Android Auto, and MirrorLink. Available on all but the entry-level MIB-II system, it'll allow the usual remote-access to select apps on iPhones, Android 5.0+ handsets, and select MirrorLink-compatible devices from Samsung, HTC, LG, and Sony.
Later in 2015, meanwhile, VW's Apple Watch Car-Net app will be released, showing things like door lock and window/sunroof status, location with pedestrian directions, and control of the lights and horn.
Those with a gas or diesel VW will also be able to see fuel level from their wrist, while e-Golf owners can see current charge, estimated driving range, manage climate control, and control whether the EV is charging or not.
Volkswagen says it is "currently investigating" Android Wear support.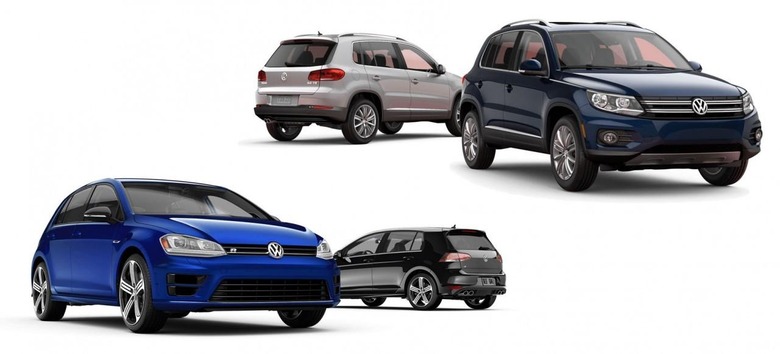 The first cars with MIB-II are starting to show up in dealerships now, the Golf R and Tiguan, while almost every model year 2016 vehicle will be offered with the new systems. Left out will be the 2016 Eos and the Touareg; as for the Passat, VW says that's due a big refresh soon, and so there'll be more details on how MIB-II is implemented in the coming months.